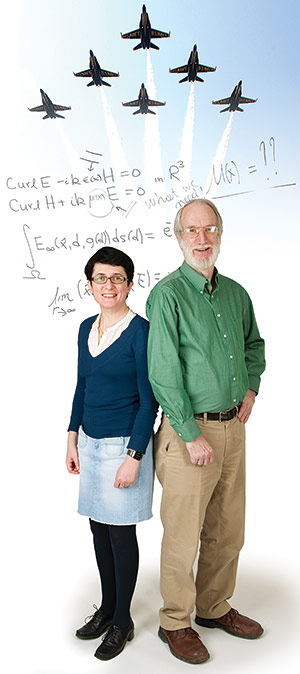 An "elegant solution" to a decades-old problem in aviation safety may soon take flight, thanks to a research team in the University of Delaware's Department of Mathematical Sciences.
The pilot's window, or canopy, on U.S. Air Force jets is replaced every few months because the specialized plastic degrades under ultraviolet light, and there is no non-destructive method for testing it.
"If the window breaks where the pilot sits, the whole airplane falls down," says David Colton, Unidel Professor of Mathematical Sciences. "We've developed a mathematical method to determine if these materials have the requisite strength or not."
If the method is successful, the researchers envision someday having a sensor that can sweep across an airplane canopy and indicate blue, for example, if the window is structurally safe, or red if it's not.
The novel approach, created by Colton and colleagues Fioralba Cakoni and Peter Monk, is based on a new mathematical theory of transmission eigenvalues, which they compare to the tones associated with the different strings of a violin.
"You send in an electromagnetic wave that excites the window, and you can measure the vibrations that come back in certain tones or frequencies," Colton explains.
Nobody knew that transmission eigenvalues even existed until the UD mathematicians discovered them in 1988 while doing research on inverse scattering problems, in which sound waves, as one example, are used to determine an object's characteristics by measuring data from the echoes.
They first thought of applying their new method to the problem of locating cavities in tree trunks and then began pondering other possibilities.
With funding support from the U.S. Air Force Office of Scientific Research (AFOSR), the UD team is now collaborating with researchers at Wright-Patterson Air Force Base in Ohio to put the theory into practice.
A test setup is being developed, consisting of a cylinder fabricated from composite material similar to the kind used for airplane canopies, and surrounded by antennas. The cylinder will be subjected to electromagnetic radiation of various frequencies, and the return vibrations will be measured.
"The mathematical theory is very exciting for us, but as applied mathematicians, we also are thrilled that the research may have practical applications," notes Cakoni. She is the lead author, with Colton and Monk, on "The Linear Sampling Method in Inverse Electromagnetic Scattering" published in February 2011 by the Conference Board of the Mathematical Sciences (CBMS) and the National Science Foundation.
So although Colton jokes that the jar labeled "elegant solutions" on his bookcase is empty, if the UD method works, it would represent a tremendous scientific advance in detecting flaws in materials such as airplane canopies, and perhaps, if the mathematical theory is extended to include biological tissue, even open a new window into medical imaging.
"That's a twinkle in my eye," Colton says.