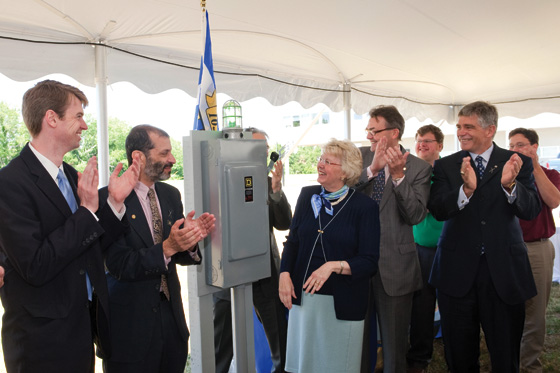 Culminating years of planning and study, the University of Delaware and Gamesa Technology Corporation began operating a 2-megawatt wind turbine at the Hugh R. Sharp Campus in Lewes this past summer.
"We couldn't be happier to partner with Gamesa on wind-energy research and technology," UD President Patrick Harker said at the turbine commissioning ceremony on June 11. "Together, we can make Delaware a U.S. leader in wind-power science, production and policy."

The land-based turbine stands 400 feet high from its tower base to the apex of its blade at peak rotation. Each of its three blades is 144 feet long.
A typical 2-megawatt turbine provides enough emissions-free electricity to power about 500 average homes, so the single turbine is expected to provide clean, carbon-free electricity for the entire campus, which is part of UD's College of Earth, Ocean, and Environment.
At times, the turbine will generate more than enough power for the campus, with the excess fed to the electric grid. The University will provide any excess power at the same cost the Lewes Board of Public Works pays wholesale, so there will be no additional charge to Lewes customers for getting a portion of their power from a local, clean resource.
"Gamesa has invested more than $220 million on U.S. manufacturing and wind energy development," said Gamesa North America CEO Dirk Matthys. "As an industry leader, we are always looking for new opportunities, like our partnership with the University of Delaware, to move America toward a more sustainable, domestic clean-energy future."

Gamesa specializes in sustainable energy technologies, mainly wind power. With an international workforce of 6,300 employees, including 850 in the United States, the company has installed some 16,000 megawatts of its main product lines in 20 countries over four continents.
In Lewes, however, carbon-free electricity is not the only benefit of the turbine.
"This project will enhance research in areas such as turbine corrosion, avianimpacts and policy issues related to renewable energy," said Nancy Targett, dean of the college.
Another benefit of wind energy is economic, according to Collin O'Mara, secretary of Delaware's Department of Natural Resources and Environmental Control.
"Transitioning to a clean-energy economy has the potential to improve our environment and create thousands of jobs," he said. "The UD-Gamesa partnership will demonstrate significant economic and environmental benefits for this transition and serves as a model for future offshore development."

The Lewes wind turbine project is part of a joint venture, First State Marine Wind, between UD-owned Blue Hen Wind and Gamesa Technology Corp. The city of Lewes and Sustainable Energy Developments Inc. are also key partners.
Targett and Profs. Jeremy Firestone and Willett Kempton conceived the project. Firestone and Kempton have studied many aspects of wind energy, including the potential power supplied by Delaware's offshore winds as well as public reaction to and policies for wind-energy use.
Also this summer, the University and the U.S. Department of Energy's National Renewable Energy Laboratory announced they will collaborate on offshore wind research and work to facilitate the testing of commercial wind turbines off the Delaware coast.
Under a cooperative research and development agreement, UD will work with federal and state agencies to identify and meet criteria for establishing any potential offshore test sites. Public involvement is expected to be a key part of the process.