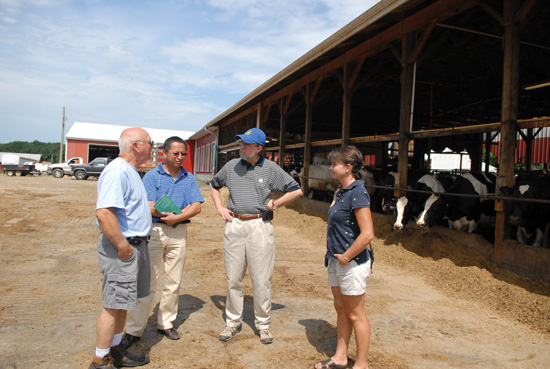 The University of Delaware has long been a leader in improving water quality locally. Now UD is involved in water-quality efforts 10,000 miles away, in China, through a unique research partnership. Nonpoint pollution of ground- and surface water is a growing concern in China, particularly as that nation's economy expands and agricultural activities intensify.

"Collaborating with state and industry partners, we've made significant progress in helping provide Delaware's farmers with 'best management practices' that can optimize crop production while minimizing the impact on the environment of the fertilizer and manure nutrients essential for crop growth," says Tom Sims, deputy dean of the College of Agriculture and Natural Resources (CANR) and T. A. Baker Professor of Soil and Environmental Chemistry.

"Now we're moving into exciting new territory as we extend our reach internationally to collaborate with Chinese researchers in the development of solutions to their country's pressing environmental issues."

UD's nutrient management efforts have been recognized globally and led to an agreement in 2008 with China Agricultural University (CAU) and the University of Pennsylvania Department of Clinical Studies, School of Veterinary Medicine, to participate in joint research and exchange activities.
Since 2009, UD has hosted Prof. Fanghao Wang, a visiting CAU scientist who studies nutrient management in animal production. He has been conducting research at UD with Sims, as well as at the University of Pennsylvania's New Bolton Center in Kennett Square, Pa., where he has worked with project co-leader Prof. Zhengxia Dou. She is renowned for her work on nutrient management in dairy production.
"Here in the U.S., there are so many opportunities to study nutrient management with some of the top research scientists in the field," Wang says. "I have been able to attend demonstrations with extension professionals and attend national meetings that will all help me as a scientist in China." Wang also published his research in the U.S., one of his goals.

In August 2009, a delegation from CAU visited UD for a whirlwind week that included a joint scientific workshop and tours of a Sussex poultry farm, Perdue's Agri-recycle manufacturing plant, the New Bolton Center, and UD's Carvel Research and Education Center in Georgetown. This past July, four CAU researchers arrived for a five-week visit that featured discussions on possible research collaborations with UD faculty and their colleagues at Penn State, Purdue and the University of Maryland.
CAU and UD also joined Wageningen University and Research Centre of the Netherlands to host the Third International Workshop on Nutrient Management Technology and Policy in Beijing. Sims presented a keynote talk on the chemistry and management of soil phosphorus, a major pollutant of the Chesapeake Bay. David Hansen, associate professor of soil and environmental quality and Cooperative Extension specialist for nutrient management, also presented.

"Our international collaboration is rewarding — we're using our years of research and extension experience on nutrient management in Delaware and Pennsylvania to contribute to solutions to China's serious agri-environmental problems," Sims says. "At the same time, our Chinese colleagues are visiting with us regularly to learn about the practices and policies we're working on to protect water quality locally."

Hansen illustrates that point. While an eager participant in the UD-China collaboration, his topic at the Beijing conference —"environmental regulations affecting agriculture in the Chesapeake Bay watershed" — reflects his longstanding commitment to protecting local water quality.
Hansen and Greg Binford, associate professor of plant and soil sciences, develop and conduct all of the nutrient management training required for growers under Dela­ware law. Hansen also is the extension water quality coordinator and sustainable agriculture research and education coordinator, as well as Delaware's representative to the Chesapeake Bay Program's Scientific and Technical Advisory Committee and chair of the program's Nutrient Subcommittee. He is helping to craft policy that will impact the Chesapeake for generations to come, while maintaining an active research program related to nitrogen and phosphorous management in production agriculture.
Binford recently won a $550,000 grant from the U.S. Fish and Wildlife Service to develop a nutrient management program that will result in less nitrogen leaving cornfields and entering Chesapeake Bay. The key, he says, is to revise plans currently used by growers so there is a mechanism in place that allows for an evaluation at the end of the season.

"UD's nutrient management team is crafting innovative solutions in pursuit of improved environmental quality here in Delaware and on the other side of the globe," notes Sims. "Their efforts provide critical benefits to agriculture while protecting the environment."