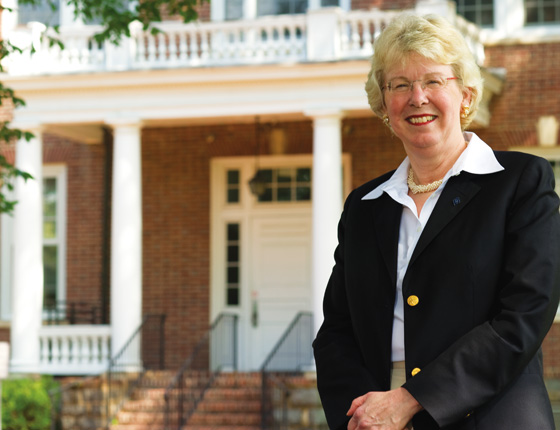 Since Nancy McKeever Targett took the helm as dean of the University of Delaware's College of Earth, Ocean, and Environment (CEOE) five years ago, her life has been in high gear like the state-of-the-art wind turbine she recently commissioned at the Hugh R. Sharp Campus in a bold step toward a clean-energy future.
A leader in demand, Targett was invited to the White House in June 2010 to brief Vice President Joe Biden's Domestic Policy Advisory Committee staff about the Gulf oil spill and the need for greater coordination of scientific efforts. That was in her role as chair of the board of trustees for the Consortium for Ocean Leadership, a nonprofit comprising 96 top ocean science institutions and a number of nongovernmental organizations and industry affiliates.
She has flown to China several times in the past two years to foster the development of the Joint Institute for Coastal Research and Management with colleagues at Xiamen University. Launched in 2008, the institute highlights global perspectives and partnerships in areas of natural science, social science and public policy related to coastal environments and their management in the U.S. and China.
And as director of Delaware Sea Grant, part of a national network of 32 university-based programs aimed at promoting the wise use, conservation and management of marine resources, Targett has spearheaded initiatives for improving the forecasting of coastal storms, to increasing public awareness about climate change in Delaware and beyond.
Navigating a college with a new outlook
Most days, Targett, the road warrior, drives the 180-mile roundtrip from her home in Lewes, not far from the seaside Hugh R. Sharp Campus, to the University's main campus in Newark. There, from the dean's office in Robinson Hall, she is navigating the rapid evolution of a college that for 36 of its 40 years focused on marine science and policy — and graduate education — but now has an expanded scope.
With the recent additions of the geography and geological sciences departments, the former College of Marine Studies became the College of Earth, Ocean, and Environment (CEOE) and now includes work in both Earth and ocean systems from a natural and societal perspective.
"Before, our college was focused on the marine environment, and now we have broadened that, to link land, air and sea so that students can more readily understand the connections from both a science and society perspective," Targett says. "Our goal now is to produce scientists, educators and policy specialists who have the broad vision and interdisciplinary background to address the sweeping, interrelated issues that are part of the study of ocean and earth systems."

Currently, CEOE has 118 scientists, including 61 faculty, in six core areas: geography, geological sciences, marine biosciences, marine policy, oceanography, and physical ocean science and engineering. They work on topics ranging from climatology to declining fisheries; offshore wind power to environment and society.
CEOE operates the 146-foot research vessel Hugh R. Sharp and houses the secretariat of the international Scientific Committee for Oceanographic Research. CEOE also is home to the Delaware Geological Survey, part of a national network that conducts geologic and hydrologic research; the Delaware Environmental Observing System, with its critical roles in natural resource monitoring and emergency management; and the Dela-ware Geographic Alliance, which seeks to boost geography education statewide.
A new undergraduate degree in marine science
Four years ago, Targett was asked to lead a task force to examine undergraduate environmental education at UD. The task force engaged faculty from across the University to determine what curricular changes needed to be made to provide students with enhanced opportunities.
The process yielded new curricula and core requirements for bachelor's degrees in environmental science and environmental studies, and new concentrations that allow students to gain depth in their area of interest, from atmospheric science and sustainable energy technology to environmental policy and law.
Those programs were implemented in fall 2009, and soon Targett expects an exciting addition, pending Faculty Senate approval — UD's first undergraduate degree program in marine science.
"It likely will include a semester in Lewes and give students the opportunity to do experiments in a new wet lab with aquaria that will be viewable by people on our public tours," Targett says.
Students also will have hands-on access to state-of-the-art technologies in the Global Visualization (G-Vis) Lab in Lewes, with its stunning real-time data streams of ocean temperature to global winds projected on nine, integrated 55-inch flat-panel TV screens; and the Visualization and Advanced Simulation Training (VAST) Lab in Newark, which includes a command center that enables scientists to operate underwater vehicles remotely.
"What I really love about these technologies is that they enable people to literally see and understand the big picture — it helps facilitate a conversation that was in the abstract before. The G-Vis Lab has already been a catalyst for new collaborations," she says.
"There is a lot of emphasis today on science and society, and universities as catalysts for innovation," she adds. "I believe the college has long been a leader in that, from the days of the DELBUOY, which used wave energy to make potable water from seawater for island nations, to our wind turbine in Lewes, to our vehicle-to-grid technology for electric cars."
Targett recognizes the strong faculty in the college as the basis for many of her successes. As new ideas percolate from the faculty, she says her job is to aggregate them, help formulate the vision and get people working together. She is proud that major decisions, from the college's name to the installation of the new wind turbine, have received widespread faculty support.
At the end of the day, Targett says, it all comes down to a love of science.
"I knew when I was a little kid that I wanted to be a marine scientist," says Targett, who grew up in Pittsburgh, Pa., watching marine biologist Jacques Cousteau on TV.
Her desire for a science career was further piqued as a young girl when she saw an issue of Parade magazine with oceanographer Sylvia Earle on the cover. Targett wrote a letter to Earle about her hopes to become a marine scientist. Earle wrote back.
"She told me to 'stay the course, to keep your dreams,'" says Targett, who still has the letter.

Although Earle's letter was influential, Targett says her greatest inspirations have been her parents — her late father, who was a meat salesman, and her mother, a former telephone operator.
"In the early days, my Mom said, 'Find your passion and then do your best.'

"I really love my job," Targett says, smiling