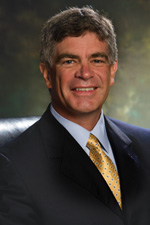 Welcome to the "Eco-Innovation" issue of University of Delaware Research. Just as "eco-innovation" describes one of UD's biggest research areas, "eco-leadership" describes one of our key missions.
We're fulfilling that mission with several sustainability milestones. This past summer, UD commissioned a 2-megawatt onshore wind turbine that's now powering our campus in Lewes, Delaware. We've since signed a research agreement with the National Renewable Energy Laboratory that could initiate the testing of commercial wind turbines off the Delaware coast — the first offshore turbines in the Americas.
Our vehicle-to-grid technology — allowing electric car batteries to store excess energy when demand for power is low and send it back to the grid when demand is high — is undergoing its first large-scale demonstration project. Meanwhile, Delaware Governor Jack Markell signed the world's first bill mandating that electric car owners be compensated for electricity they return to the grid at the same rate they pay to charge the cars' batteries.
A Critical Zone Observatory at the Christina River Basin, funded by the National Science Foundation, is helping UD answer critical climate change questions, while our Energy Frontier Research Center, funded by the Department of Energy, is developing catalytic technologies that can more efficiently convert biomass into chemicals, electricity and fuels.
But this is just a snapshot: The University is conducting breakthrough research in photo-voltaic solar cells, lightweight composites, next-generation magnets and hydrogen storage. UD's great opportunity now is to get our important innovations out of the lab and into our homes, our cars, our offices — our way of life.
We are closing the science/policy and policy/practice divides. U.S. leaders are turning to UD for guidance on alarming environmental events and their implications — from the massive oil spill in the Gulf of Mexico to the cleaving of a huge ice island from Petermann Glacier in northern Greenland. We've developed a cross-disciplinary undergraduate major in energy and environmental policy (our graduate programs were the nation's first), and conceived the Sustainable Energy Utility, a nonprofit delivering energy-efficiency and renewable-energy services to homes and businesses.
As an institution creating some of the world's most promising environmental science and policy — an institution with nearly 20 centers dedicated to energy and environmental research — the University of Delaware has an absolute imperative to do the interdisciplinary work that will solve this nation's sustainability crisis, and to be the first-stop resource for countries aiming to do the same. Our "eco-leadership" depends on it.
Patrick T. Harker
President, University of Delaware