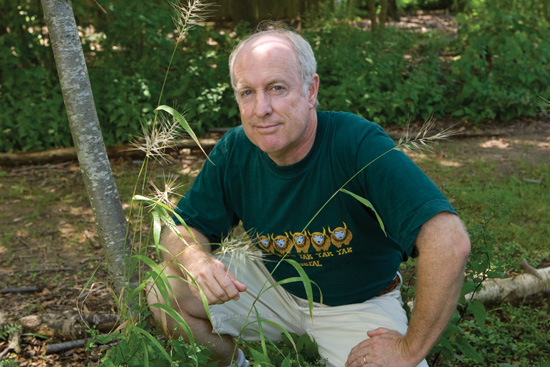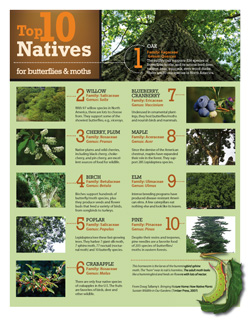 Armed with a shovel, Doug Tallamy, chair of UD's Department of Entomology and Wildlife Ecology, is leading a new American revolution, and he wants you to join him.
All you need to do is plant one native tree or shrub in your yard — perhaps an oak or willow tree, a blueberry or cranberry bush.
It's not hard to do, it doesn't cost much and the paybacks, Tallamy says, will be immediate. Caterpillars will begin feeding on these native plants, and then birds will discover the caterpillars and start snapping them up. Add more native plants, and your rewards will be even greater, as a richer web of life springs forth.
"When plants bring life into your yard, it's instant gratification," Tallamy says. "It's especially critical for kids to understand the linkages. By putting native plants in your yard, you can make those connections for the future stewards of our planet."
Although that Bradford pear tree with its snowy spring blooms, the burning bush with its flame-red leaves in autumn, and the stately English ivy bordering your home may look lush and attractive, ironically these alien species are contributing to the ecosystem's demise, he notes.
Why are non-native plants so damaging to the ecosystem? The simple answer is that insects — the primary food of birds — cannot, or will not, eat this unfamiliar vegetation. Programmed by eons of evolution, many insects don't even recognize alien plants as potential food, he says.
Tallamy recently completed a National Science Foundation research project focusing on the impact of alien plants on herbivorous insects, most of which are specialists that feed on only a few different plant species.
If an insect has adapted to a native plant, the general thinking among scientists had been that the insect should be able to adapt to that plant's close relatives.
"However, we've found that there is still a significant loss of abundance of insects in that situation — around a 50% loss," Tallamy says. And if there is not a close relative, then there is a 75% loss in that insect's abundance."
Alien plants are rapidly replacing native ones across North America because the non-natives typically outcompete native plants, and homeowners often unknowingly are planting non-natives in their yards.
In a study of randomly selected homes in suburban developments built from 1990–2005 in New Castle County, Del., and neighboring Chester County, Pa., Tallamy and his colleagues have found that 92% of the landscapable area around those homes is lawn, which is akin to a desert in terms of wildlife habitat. On the remaining 8% of landscapable area, 75% of the plant species are non-natives, and 83% of the total number of trees, shrubs and flowers are non-natives, offering very little in the way of food for insects or birds.
Put Life Back into Your Landscape
"We largely have a barren landscape. But it doesn't have to be that way," Tallamy says, in his office in Townsend Hall in the College of Agriculture and Natural Resources.
Covering his desk are research proposals and speaking invitations for national symposia to local garden clubs, while a nearby table holds an assortment of jars containing water samples from a wetland he's helping to create in a former cow pasture on UD's Farm.
"We can landscape in ways that support insects and birds and other life," he says. "It's especially easy to do in suburban areas. It may be harder to do in places like Manhattan, but even there, it's not impossible."
Tallamy spells it all out in his award-winning book, Bringing Nature Home: How Native Plants Sustain Wildlife in Our Gardens (Timber Press, 2007). Enhanced with full-color images, the book covers everything from the vital new role of the surburban garden, to gardening for insect diversity. It also includes a list of the top woody plants (see page 46) for supporting one of the largest orders of insects — Lepidoptera, more commonly known as butterflies and moths. The oak tree ranks at the very top, providing habitat for some 534 species. The list was born from exhaustive searches of the scientific literature by Kimberley Shropshire on Tallamy's research staff.
"I'm not saying to rip out non-native plants and start over from scratch," he says. "However, when a non-native plant dies on your property, replace it with a native one. If you replace alien species with native woody plants, you'll be putting a lot more life into that landscape. Plants dictate the life that can live there."

Based on all of the presentations he's given to garden clubs and homeowners' associations across the United States, and in media interviews with the New York Times to National Public Radio, Tallamy says that most people don't realize how critical their choice of landscaping is to the life around them. But once they understand the connections and the importance of native plants, they are eager to take action in their yards and communities.
A few concerns and myths are easily dispelled, he says.
"People should not worry, for example, about being overrun with insects if they plant native species. Our research does not bear that out," Tallamy notes.

There also is a misperception that a native landscape may look "raggedy" or lack the beauty of ornamental plants from distant lands, but well-designed native gardens can be indistinguishable from gardens dominated by aliens, he says.
Tallamy also encourages people to think differently about their lawns. Open your door on any Saturday morning in suburbia during summer, and you'll hear America mowing.
"Instead of carving out small corners of the lawn where you want to plant a tree or a few shrubs or a flower bed, we need to reverse that thinking. Consider the trees, shrubs and flower beds as taking up the majority of the area, and the lawn as the path that connects them," he advises. "You'll save energy and increase biodiversity.
"People want managed, beautiful landscapes that are alive, and native plants are the key," Tallamy notes. "We just need to make the new status symbol the number of hummingbirds you see on your property versus your well-manicured lawn!"

Although Tallamy is smiling as he speaks, there also is a strong sense of urgency behind his words.
"It's very clear to me that in my 30 years in academia, this work is the most important thing I have done," he says.