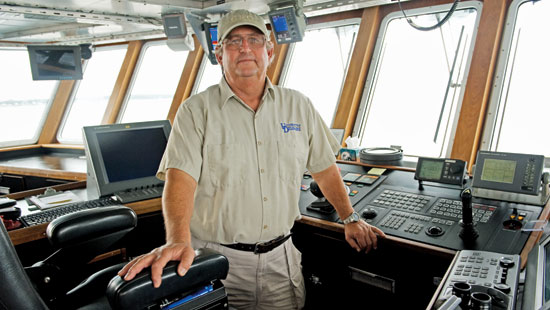 As Captain of the R/V Hugh R. Sharp, Bill Byam is responsible for the operation of the ship as well as the safety of up to 14 scientists and 6-7 crew.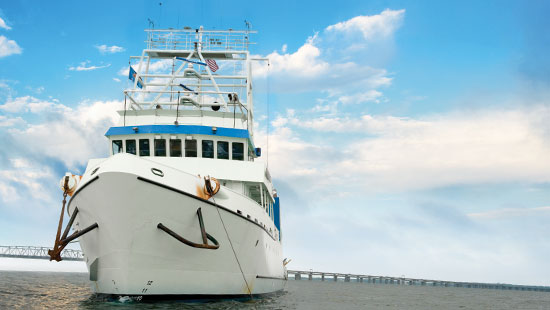 At 146 feet in length, The R/V Hugh R. Sharp has a top speed of 11.5 knots, range of 4,000 miles and has logged over 100,000 miles traveling to destinations as distant as Georges Bank, Canada, the Gulf of Mexico and the Bahamas.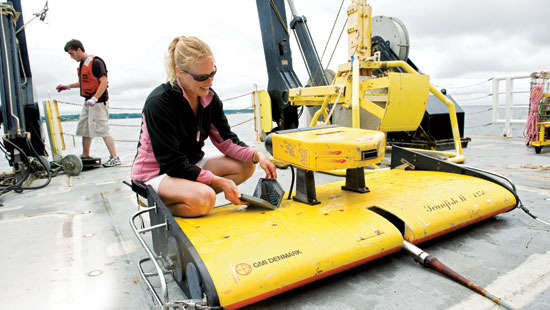 Ship technician Wynn Tucker makes a quick repair to the Scanfish, an undulating CTD (conductivity, temperature, depth) system. It operates to within 3 meters of the seafloor.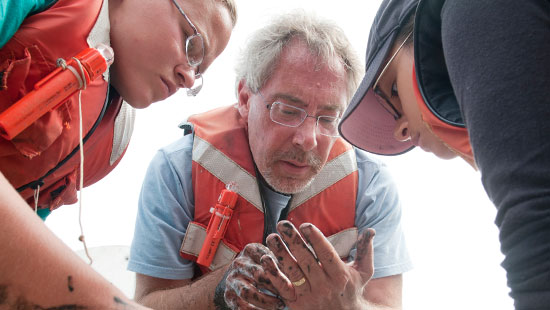 UD scientist Doug Miller (center) examines a worm found in a sediment sample collected from the Atlantic Ocean floor.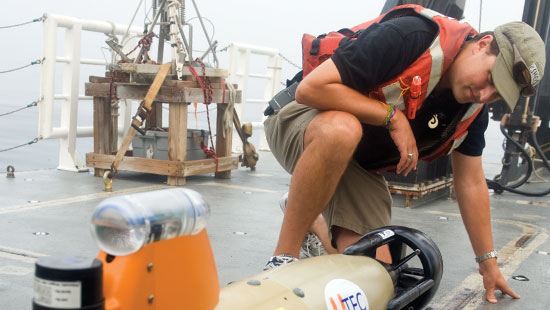 UD geoscientist Art Trembanis examines his autonomous underwater vehicle (AUV) before it is deployed in the Atlantic Ocean off Delaware.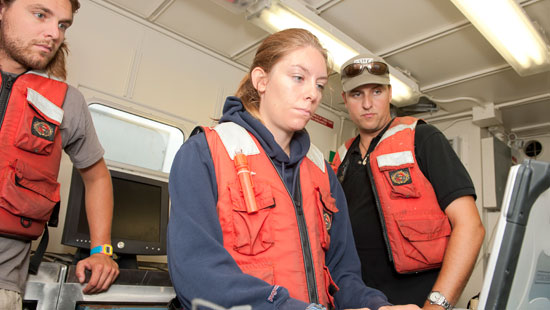 Jonathan Gutsche (left), Doctoral student Nicole Raineault (center) and her advisor Art Trembanis (right) monitor the AUV's position during a mission.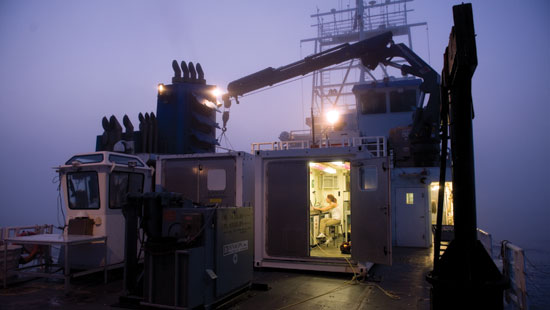 Research aboard the R/V Sharp continues through a warm August night. As UD's autonomous underwater vehicle (AUV) surveys the ocean floor, the instrument's location is monitored and recorded, along with what it sees. The AUV is mapping an artificial reef of sunken subway cars and ships on the seafloor.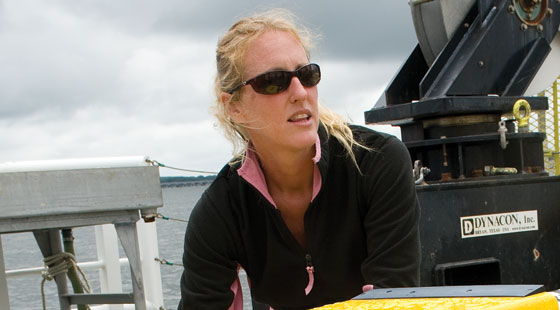 As the ship technician aboard the R/V Sharp, Wynn Tucker interacts directly with the scientists on the ship. She is in charge of all data collection, science equipment and deployments. Tucker says she "was destined" for a career at sea. She grew up on the water, traveling the Intercoastal Waterway with her parents. She holds a degree in marine technology.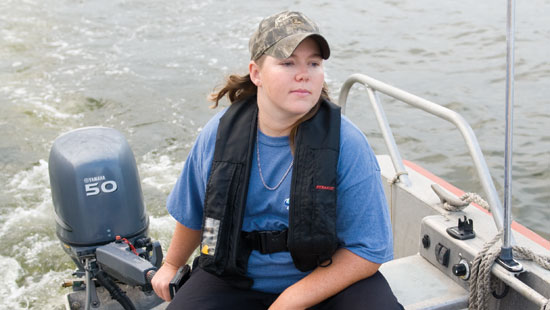 A native of Lewes, DE., home port of the R/V Sharp, Mary Moore is a deckhand / second engineer. When sailing as second engineer, she completes engine room rounds, repairs systems as needed and operates the deck winches and frames. Moore describes herself as a fourth-generation waterman. Her family does net fishing for sea trout, croaker and perch.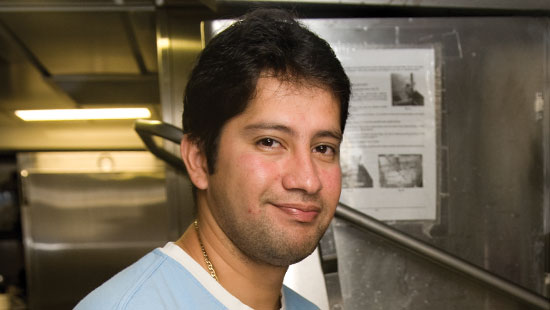 As the ship's cook, Paul Gomez plays a crucial role, making sure the crew and science team are well fed. A chef by training, he buys groceries, does the cooking, the cleaning and laundry. He prepares balanced meals three times a day even in rough seas. His specialty is a delectable seafood pasta made with shrimp, scallops and clams.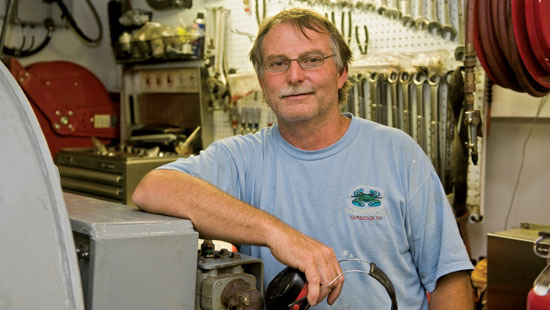 As chief engineer, Tim North oversees the four 500 KW diesel generators that supply power for the ship's propulsion and service (electricity for lights, computers, heating / air conditioning, pumping water, etc.). He is also a U.S. Coast Guard licensed captain. The Cambridge, Md., native comes from a commercial fishing background on the Eastern Shore.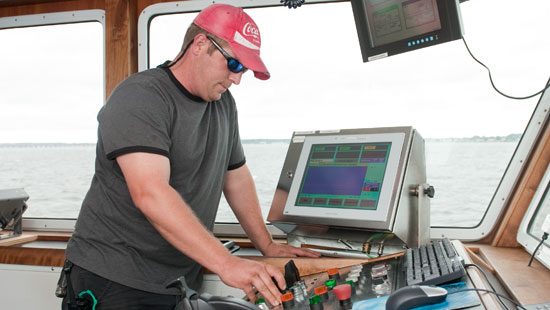 A native of Freedom, Pa., Oliver Fullard is the second engineer, the officer responsible for assisting the chief engineer in the daily maintenance and operation of the ship's engines. Fullard stands the 11:30 a.m.- 5:30 p.m. watch. During this watch, he does engine room rounds, operates all deck equipment and repairs systems as needed.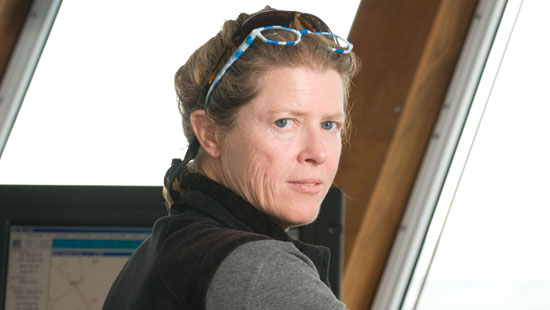 Mary Feen lives in Cape May, N.J., and ferries across the Delaware Bay to Lewes, Del., to work aboard the R/V Sharp as a reliever when the ship's full-time second mate has scheduled time off. During her watch, Fenn is responsible for all ship operations, navigation and safety. She has handled boats all of her life.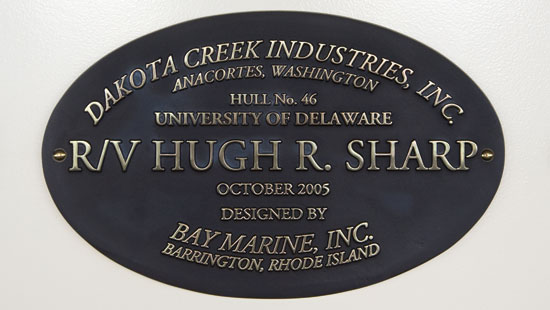 UD's research vessel is named in honor of the late Hugh R. Sharp Jr., who served for many years on the University's board of trustees and was a staunch supporter of marine research. The ship is a national resource, available for charter by federally funded scientists through the National Oceanographic Laboratory System.