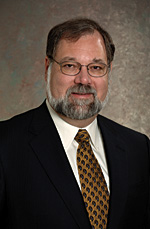 "Think Globally, Act Locally." We have probably all seen this admonition on bumper stickers and elsewhere. It is indeed a valuable reminder that even with challenges as global as the health of our planet and the life it supports, individual decisions and individual actions matter.
At the same time, the world in which we live is far too interconnected for individual actions to solve global problems, or even for the individual to fully appreciate all the consequences of his or her decisions. As we look at the challenges facing our society, from environmental preservation and amelioration, to clean energy, to a healthier society, to public education that prepares students for the "flat" world in which they will live, the common need is for scalable solutions. We seek ideas, systems, technologies, best practices that can be developed and tested at a meaningful scale, and that can be reproduced and adapted on national and international scales.
Enter Delaware! Our "Small Wonder" state and its flagship university continue to grow in their importance as a laboratory for the nation. Earlier this year, Delaware was named one of the first two states to be selected for Race to the Top funding by the U.S. Department of Education. This effort seeks to create new paradigms for public education in the 21st century by working at the statewide level.
University of Delaware faculty have been especially involved in Science, Technology, Engineering and Mathematics (STEM) teacher education and building capacity to deliver rigorous STEM courses statewide, as well as assisting school leaders to develop evidence-based plans for school improvement.
The Delaware Health Sciences Alliance, a partnership of the University of Delaware, Thomas Jefferson University, Christiana Care Health System, and Nemours/A.I. duPont Hospital for Children, is aimed at the development of health care solutions from bench to bedside, and to assessing the impact of these on population health at the statewide scale.
Delaware's Sustainable Energy Utility and enabling legislation for vehicle-to-grid technologies, both products of UD research and policy scholarship, represent first-in-the-nation, scalable solutions to our energy future. Our Critical Zone observatory, one of only six funded by the National Science Foundation, focuses on key watershed issues that have regional impact and solutions that can be applied far beyond. The University's new wind turbine on the Lewes campus is already providing electric power to the grid, while serving as an important research facility for wind turbine technology in a marine environment. There are no offshore turbines anywhere in the Americas, and thus the knowledge that will be gained from this UD initiative promises to affect clean energy development and deployment on the scale of the hemisphere.
These are just some of the ways that the University of Delaware is driving the creation of knowledge, technology, education and policy of national importance. Delaware as a laboratory for the nation is not an idle dream, but a recognition of leadership and impact that grow every day. The redevelopment of the former Chrysler Newark assembly plant site into a science and technology campus that will house new ventures and partnerships opens new opportunities to translate university research, scholarship and creativity into truly scalable solutions.
"Think globally, cultivate locally." The opportunity to do great things rests on thousands of individual efforts, inspirations and interconnections. By any quantitative measure, the University of Delaware is among the nation's prominent research universities, and our pace is accelerating. But the real excitement comes not from the numbers, but the people. The best part of my job is learning about new research and creative activities of our faculty and students, from the arts to technology, from the local to the global. I hope you also will enjoy some of those "best parts" through the stories in this issue.
Annual Sponsored Expenditures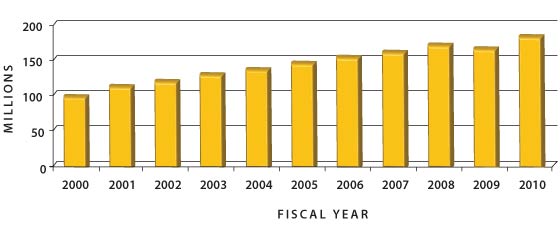 FY 2010 Research Expenditures by Sponsor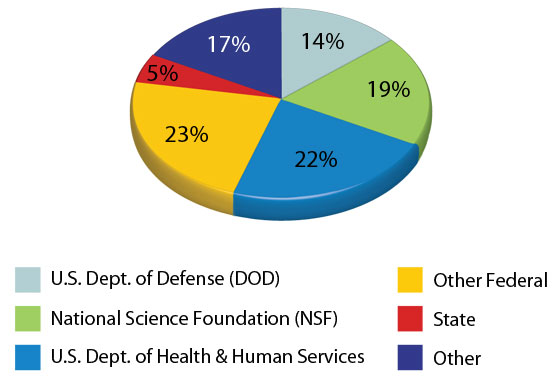 Sponsored Program Expenditures