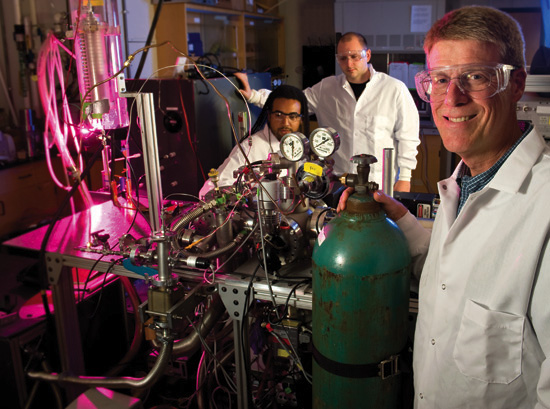 Understand this: Murray Johnston doesn't want the air to be polluted. In fact, he's a pollution fighter.
But Johnston does find infinitely fascinating the chemistry of volcanic dust to the tantalizing aroma of grilling burgers swirling in the air.
"Atmospheric chemists look at the world in a different way than most people," says the professor of chemistry and biochemistry at UD.
"When the air is very clean, it's pretty boring for us. When it's polluted, it's really interesting from a chemistry perspective," Johnston says. "That gives us a lot to look at."

Johnston and his research group of budding analytical and atmospheric chemists want to know more about microscopic particles suspended in the air — particles containing a vast assortment of materials — sand and dirt, sea salt, lead and other metals, soot, toxins and more. They especially want to learn about the smallest of these — nano-particles — where they come from and how they change over time, and then help to devise strategies to mitigate the harmful ones.
After all, the air we breathe is more than just oxygen. It's actually 78% nitrogen and 21% oxygen, with the remaining 1% composed of carbon dioxide, traces of helium, neon, and other gases, and a potpourri of microscopic contaminants, even minuscule amounts of gasoline from filling your vehicle's tank.
Just how small are nanoparticles? A single hair has a diameter of about 100,000 nano­me­ters. The particles that Johnston and his group are studying are less than 50 nanometers in size. Most are smaller than 25 nanometers.
To analyze them, Johnston and his team invented the nano-aerosol mass spectrometer (NAMS), an instrument that can trap and then analyze nanoparticles in real time. The one-of-a-kind instrument, the size of an office desk on wheels, has been used in air quality assessments in Delaware and California so far. It provides measurements of particle size and composition, which the UD researchers combine with environmental data such as temperature, rainfall, wind speed and direction, and solar radiation, to understand how nanoparticles form and grow in the atmosphere.
The risks posed by ambient nanoparticles to human health and the environment are not well understood. However, there is concern about these super-small particles because their chemistry differs considerably from larger particles and their size enables them to penetrate the lungs more deeply and enter the bloodstream.
Epidemiological studies recently have shown a strong correlation between particulate air pollution levels, lung and heart diseases, various cancers and mortality. However, these adverse effects appear to be dependent on a number of factors such as genetics, existing disease, exposure patterns and particle chemical composition.
The state of Delaware, through the Delaware Department of Natural Resources and Environmental Control (DNREC), has been monitoring airborne particles for some time, and Johnston has been a collaborator on a number of the research initiatives.
In a 2009 study of urban air, funded by the non-profit Health Effects Institute and the Environmental Protection Agency, Johnston and his team trucked the NAMS to a monitoring site near the intersection of Justison Street and Martin Luther King Boulevard in downtown Wilmington, Del. Their primary goal was to determine how many nanoparticles are emitted from motor vehicles compared to other sources.
Thanks in part to the NAMS, which provides a minute-by-minute snapshot of air quality, the researchers found that during peak driving times, almost half the nano-particles come from vehicles that are stopped at the intersection and then accelerate, producing a burst in emissions.
Some vehicles emit up to 30 times more nanoparticles than others," Johnston notes. "Most of the emissions are from a few vehicles, so if you can identify those vehicles, you'll get a lot of bang for the buck. Another idea is to time our traffic lights differently so that there's not so much stop-and-go traffic at major intersections when, for example, students are walking to school."

Sunlight also plays a role in nanoparticle formation. Ozone gas, a major component of "smog," is formed on hot, sunny days when energy from the sun reacts with the volatile organic compounds and nitrogen oxides in industrial emissions and motor vehicle exhaust. Ozone itself is a health hazard, but it can also react with other chemicals in air to produce nanoparticles.
Many of the compounds that make airborne particles are actually blown to Delaware from other places such as the Ohio River valley, Philadelphia and Baltimore, according to DNREC.

"Reducing air pollution in Delaware is a real challenge because much of the state's air pollution is generated beyond its borders," Johnston notes. "In a 2005 study we made in Wilmington in collaboration with DNREC, long distance pollution sources accounted for about 40% of airborne particulate matter, with the remainder from local sources such as motor vehicles and industrial activity along the Delaware River."

Johnston's team recently shipped the NAMS to Los Angeles for a study of roadway pollutants. He says that research has made him very conscious of his distance from highways.
"Proximity to a roadway determines how many nanoparticles and other pollutants you're breathing in — the first 100 meters is especially important. In southern California, a lot of people live within 100 meters of a freeway. I thought about that when we were out there because our hotel was right by one," Johnston says. "I think of this now when I see housing developments springing up in our area along major highways."