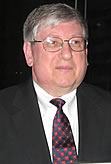 Capt. Lawson W. Brigham,
U.S. Coast Guard (Ret.), Ph.D.
Deputy Director and
Alaska Office Director,
U.S. Arctic Research
Commission
Lawson W. Brigham is the 2008 signer of the American Geographical Society's Fliers' and Explorers' Globe. The historic globe has been signed by more than 75 world-famous explorers. Brigham will pen his name on the globe on Tuesday, February 12, during a public reception at the University of Delaware.
Lawson Brigham is the deputy director and Alaska Office director of the U.S. Arctic Research Commission in Anchorage. He currently chairs the Arctic Marine Shipping Assessment of the Arctic Council, an intergovernmental forum of the eight Arctic nations. He is also vice chair of the council's working group on Protection of the Arctic Marine Environment (PAME) and was a contributing author to the Arctic Climate Impact Assessment.
A 1970 U.S. Coast Guard Academy graduate and a career U.S. Coast Guard officer from 1970–1995, Brigham commanded the patrol cutter Point Steele, Great Lakes icebreaker Mobile Bay, enforcement cutter Escanaba, and polar icebreaker Polar Sea.
At the end of his career, Brigham served as chief of the Coast Guard's Strategic Planning Staff and director of the Coast Guard Work-Life Study (1990–93). From 1993–95, he was the commanding officer of Polar Sea, sailing on four polar deployments including the Arctic Ocean Section '94 Expedition across the Arctic Ocean from Bering Strait to the North Pole and Fram Strait. Captain Brigham has participated in ten Antarctic expeditions and eight icebreaker voyages in the Arctic Ocean, and has sailed aboard icebreakers in Alaska, the Great Lakes, the Baltic Sea, the Russian Arctic, and around Antarctica. He has also served as a researcher at Woods Hole Oceanographic Institution and the U.S. Naval War College, and as a faculty member of the Naval Postgraduate School in Monterey, in the Office of Naval Research Chair in Arctic Marine Science (1996–97). His research interests for more than three decades have included studies of the Russian Arctic, ice navigation, sea ice, and satellite remote sensing of the polar regions. He received a Ph.D. in polar oceanography from Cambridge University in the United Kingdom and an M.S. in management from Rensselaer Polytechnic Institute. Brigham is also a distinguished graduate of the U.S. Naval War College.


The William S. Carlson International Polar Year Events
are brought to you through the generous support of the University of Delaware, in cooperation with the American Geographical Society of New York City. The series is part of an ongoing "UD and the Global Community Series" presented by the
Center for International Studies.
Campus sponsors include the Office of the Provost, Center for International Studies, Research and Graduate Studies, Office of Public Relations, UD Library, and UD's colleges -- Agriculture and Natural Resources; Arts and Sciences; Lerner College of Business and Economics; Engineering; Health Sciences; Human Services, Education and Public Policy; and Marine and Earth Studies.