Change of Catalog Year Web Form
The catalog year (requirement term) is what determines the set of requirements to display in the student's degree audit. Curriculum can change year-to-year, and the requirement term is what ties the student to the catalog year curriculum that they are supposed to follow. Generally, this value defaults to the semester that the student entered the University, however, students are eligible for more recent catalog years if it's to their benefit and approved by their college. Students are not permitted to move to a catalog year prior to their matriculation at the University (or prior to the term of readmission, for readmitted students).
The Change of Catalog Year Form is an advisor-initiated form used to change a student's Catalog Year (requirement term). The form is for Undergraduate use only. There are several ways to access the form; below are the most common navigations.
Advisor Center
UDSIS > Faculty and Advisors Homepage > Advisor Center tile > My Advisees > Student Center tab: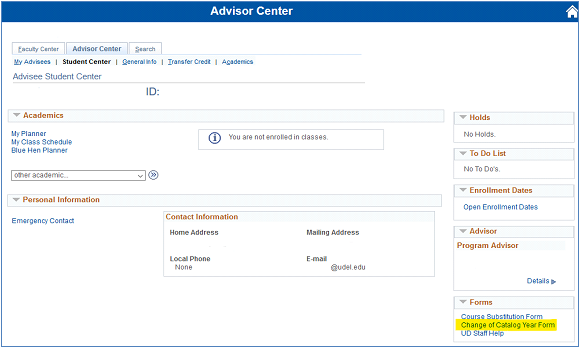 Forms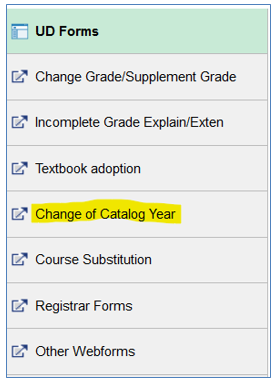 Submitting the form: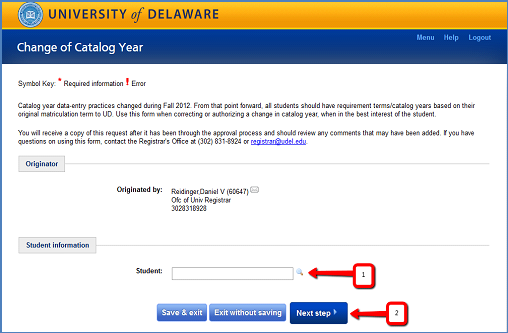 Enter the student ID number or last name. The Student field will automatically search and display options below the field. Click the correct option.
NOTE: Sometimes the search takes a few seconds to process, so allow for that after entering information in the box.
Click Next step.


The table displays the career, program(s) (i.e. College), plan(s) (i.e. major/minor), and subplan(s) (i.e. concentration) for the selected student. For the requirement terms that need to be changed, select the new value(s) in the New Requirement Term column. No action is needed for requirement terms that are to remain the same.
Provide any additional info, justification, or instructions in the Comments box. This is an optional field.
Click Next step.


The table will display the changes chosen on the previous page for confirmation.
If desired, additional approvers may be added in the routing section.
Click Finish & submit to send the form to be approved/processed.
Once the Catalog Year/Requirement Term change is processed and the form is completed, the originator of the form and the student will receive a copy of the completed form as confirmation. A copy of the form, including attachments and comments, is also added to the student's Advising Views file under the Completed Web Forms link.