Advising Tools for Advisors
There are a variety of tools within the UDSIS Advisor Center to help you navigate your advisees' academic information and assist you in the advising process. If you login to UDSIS on the Faculty and Advisors Homepage you will find a tile titled Advisor Center. Click on that tile, choose an advisee or use the View data for other students button to choose a student who is not your advisee, and you will find a drop-down menu where you can select these tools on the Student Center tab.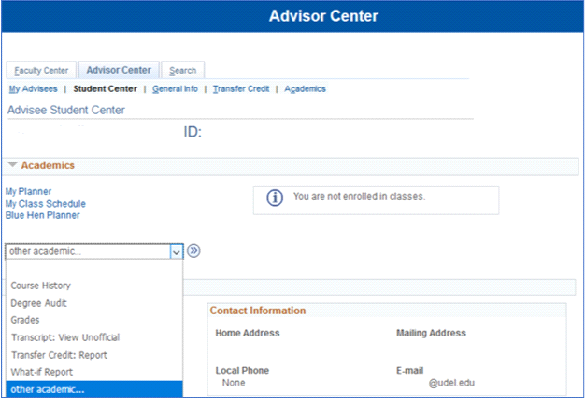 Course History
This is an alpha/numeric list of all courses taken or transferred. You can sort this list by Course, Description, Grade, Status, Term, or Units. Note that all course attempts are included in this list, even courses not successfully completed and repeated course instances that do not earn credit. While it is a helpful reference, it is not intended to be used for determining degree progress.
Degree Audit
This is a comprehensive report of academic requirements based on your advisee's catalog year and their declared major(s)/minor(s)/certificate(s)/course(s) of study. The Degree Audit is available as a collapsible version directly in UDSIS, and a PDF printer-friendly version can be generated from the collapsible version through the View report as PDF button. The collapsible version will show satisfied requirements as collapsed and unsatisfied requirements as expanded. Collapsed requirements can be viewed by clicking the arrow to the left. The PDF version will display in a pop-up window. It shows all requirements as expanded and highlights not-yet-satisfied requirements in red text. Any in-progress courses are listed at the beginning of the audit, and they also fill into applicable requirements. The Degree Audit assumes successful completion of in-progress work and re-evaluates once those courses are fully graded. For more information on the structure and features of the Degree Audit, see Reading the Degree Audit.
If there is an approved curriculum exception (course substitution, requirement override, waiver), the student must see his or her academic advisor for the exception to be accurately reflected in the degree audit. Advisors should then submit a Course Substitution form to communicate and approve the exception - this is an advisor-initiated form. For help with this process, see Course Substitution Webform Help.
If a student should be following a different set of catalog requirements than are currently reflected in the Degree Audit, advisors can approve a Catalog Year change by submitting a Change of Catalog Year form - this is an advisor-initiated form. For help with this process, see Change of Catalog Year Webform Help.
Unofficial Transcript
This is a semester-by-semester report of a student's academic record and calculates term and cumulative statistics, denotes certain course designations, lists academic standings/awards such as Probation, Dean's List, etc. See Unofficial Transcripts for more info.
Transfer Credit Report
This report compiles any test and/or transfer credits that a student has been awarded at UD. Students do not receive a grade for any test credits they have earned or for any courses the student has transferred. Instead, the Transfer Credit Report will reflect a 'CR' for test credit and a 'T' for transfer credit from an external institution. These credits do not calculate into the UD GPA, but the credits do count towards the credit total and the courses may count towards the student's degree requirements.
What-If Report
This report is a tool to give you a general sense of how previously-taken coursework could apply to another major, minor, or certificate. This is a wonderful option if advisees are contemplating declaring a major/minor/certificate or changing majors, etc. A What-If Report does not replace formal academic advisement, but it provides an understanding of the potential course requirements before committing to a change. Students can also what-if courses to see how certain courses/grades would or would not apply towards degree requirements. See What If for details on accessing and using this report.