Getting involved and connected…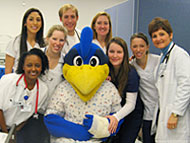 Throughout both the spring and fall semesters, students who are enrolled as Nursing majors will receive emails notifying them of upcoming meetings, fundraising events, and numerous activities. SNO also maintains a Google apps site as well as a bulletin board on the first floor of McDowell Hall (Outside of room Rm 112). To find out more about our activities and fundraisers, students can check out this bulletin board or click on our exciting on line communication Google apps site. Also be sure to visit us on our FACEBOOK page at www.facebook.com/udsno
Nursing students do not need to worry about locating all of the medical equipment they will need during their years at the University of Delaware. SNO sells equipment (BP cuffs, stethoscopes, bandage scissors, penlights, and hemostats) as well as casual apparel (t-shirts, sweatshirts, and other novelties) at a discount to Nursing students each year.



Go to our Student Nurses Organization User /Google App Site for :
Free Tutoring
Student Nurses Calendar of Events with on line Sign Ups
Apparel Order Information with Forms
Student to Student Communication Board
Student Nurses Photo Album
Our Mission
Our mission is to assume responsibility for contributing to nursing education in order to provide for the highest quality health care; to provide programs representative of fundamental and current professional interest and concerns; and to aid in the development of the whole person, and her/his responsibility for the health care of people in all walks of life.