MS OneDrive for Business: UD instructions
Overview
Microsoft's OneDrive for Business is a cloud based storage solution available to all current University of Delaware faculty, staff, and students through UD's Office365 subscription. It is based on Microsoft SharePoint Cloud and, by default, offers 5TB storage to store and share each individual's files. The SharePoint and Teams Office365 (O365) offerings supplement OneDrive by extending storage to groups of individuals, whereby the data is owned by a group rather than a single individual.
In the UD implementation, logging into all Microsoft cloud services requires Microsoft Multi-Factor Authentication (MFA).
OneDrive compared with G Suite (Google Drive)
OneDrive and Google's G Suite (Google Drive) have some similar features, but, as summarized in the table below, also have some different features and capabilities.
Feature
OneDrive
Google Drive
Storage limit per user
5 TB
Unlimited
Upload limit per file
15 GB
5 TB
Live concurrent editing
Microsoft application files
(Word, Excel, PowerPoint, etc.)
Google format files only
(Docs, Sheets, Sides, Forms, etc.)
File access
Local Directory,
synced with OneDrive
Web application
Third-party syncing
Direct editing of
Office files
Yes
No
Versioning
Yes
Yes
File & folder sharing
Anyone with an email address
Anyone at UD & anyone
with a Gmail account
OneDrive Features
If you are a regular user of Microsoft Office, then OneDrive has several distinct advantages:
Native app editing
Live concurrent editing – web and local apps
AutoSave with versioning
Syncing and direct local file access
Recent files listing
Sharing.
Native app editing
OneDrive allows for editing all Office files directly in the web application or through Office desktop apps. This feature means that you can edit files in native format in any browser using Office Web Apps without needing to separately download the file, then re-upload when edits are complete. Documents that exist only in the cloud can also be directly accessed by desktop apps, again, without the need to download.
Syncing and direct local file access.
Windows and macOS users can install the OneDrive for Business application on their computers. The app places a local copy of the contents of your OneDrive (cloud) on the computer's hard drive, in a folder of your choosing. Users can also specify which folders to sync.
Because the files are located locally, files can be edited even when no internet connection is available. As soon as a connection is available, the files will be re-synced to the cloud.
The user is notified of any synchronization or versioning errors; in the case of conflicts, additional versions of the files are created. Synchronization ensures that these local files are all up-to-date across all devices, whether the files are accessed locally or directly from the cloud.
Because the files exist locally, they can be accessed directly from Explorer (Windows) and Finder (macOS) as well as from applications on your machine. They can also be pinned to the start menu or taskbar under the parent application for quick access.
AutoSave and versioning
AutoSave has now been implemented across Office Desktop Apps for files stored on OneDrive. This feature also enables document sharing with concurrent editing. Each change is saved and updated across all users editing the document, whether they are using an Office 365 web app or a desktop app.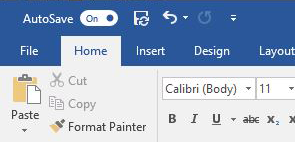 Versioning enables OneDrive to access multiple revisions of a file and is directly accessible through both Office 365 web apps and through desktop Office apps. Versioning is essentially unlimited.
Clicking See all revisions will show changes made, allowing the AutoSave feature to work without the chance of overwriting undesired changes.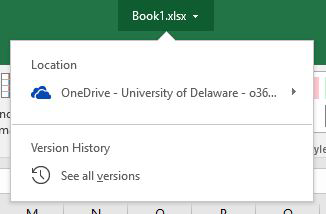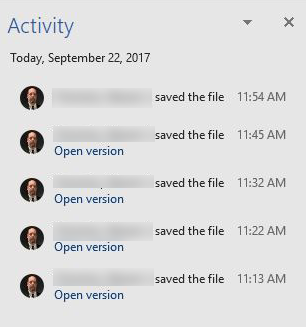 Recent files listing
It also means that your recent files list is updated across machines if you are logged into your Office365/OneDrive for Business account.
Sharing
Because OneDrive is a sub-component of SharePoint (note the URL when you are in OneDrive web app), files can be shared directly from the web.
Caveats:
In the UD implementation, public sharing of OneDrive docs outside UD has been turned off. You can share with:

People in your organization: Anyone at University of Delaware, i.e. all account holders who have Office365 rights. In this case you do not have to specify who is granted access but the user will need a link and need to authenticate.
Specific people: Any individual at UD or with an outside email. If the person is at UD they will authenticate using UD credentials. If they are outside of UD they will be sent a link, when they click on that link they will be sent an authentication code each time they connect.

You may choose to allow editng or make the file or folder read-only.
You may share the same file or folder to different people in different ways. For example, you can grant read access to all UD with a link and also allow specific people edit access.
To see a file shared with you, you must be logged in to the University's instance of Office365 using valid and current Windows AD credentials.
Documents shared with you appear in the Shared with Me listing on the OneDrive Web App.
When you receive a link to a document through e-mail or any other method, you will be prompted to log in to a SharePoint Online account. You have the option of choosing a Microsoft Account, Organizational Account, or to create a Microsoft account. In the UD implementation, you must choose Organizational Account and log in. Unlike OneDrive personal files, any OneDrive for Business file can only be opened using an Organizational Account, more specifically a University of Delaware Organizational account.
---
Sharing in OneDrive for Business
There are several ways to share from OneDrive.
From the OneDrive Web app

In the OneDrive web app, you can right-click on the file or folder to be shared and select "Share". This will allow you to share with:

Only people in University for Delaware o365 with the link can view and edit

Specific People (by e-mail address)

When selecting these you can also uncheck "allow editing" to give either specific people or anyone with the link read-only access.

In the right-most column (sharing) you can also see what is shared for each item. Clicking on this opens a pane to the right that shows who has access and allows you to manage access through a dialogue box. Clicking advances allows you to change access for individuals, groups or anyone with the link.

From the local OneDrive for Business directory in Windows Explorer

Files and folders can also be shared from Windows Explorer. This is not recommended

Right-click on a file and select "OneDrive for Business"

Go to Browser - will open the OneDrive Web App (see above)

Copy Link - this will place a link in the clipboard and enable sharing to anyone at UD with the link. They will be granted Editor access.

Share – is disabled

From within the document in Office Desktop or Web Apps

A Share icon is shown in the upper, right-hand corner of Word, PowerPoint and Excel applications when editing all files which are stored on OneDrive for Business. Options similar to sharing from OneDrive are shown. Clicking on the ellipses (…) allows you to manage access.

Outlook Attachments/Web Sharing

Recently opened files appear in the Attachment dialogue of Outlook, so if you were just editing an Excel spreadsheet and want to send it to someone, you will not need to navigate to the directory it's stored in. It will appear in the Attachments drop down menu.

Files stored in OneDrive will give you the option to send a copy of the file or to send a link and allow for sharing from within outlook. Unfortunately, this will also allow anyone with that link to edit the document, so you may wish to avoid that method if the you do not want the recipient to have edit access to the or document includes any data you do not want public. You can change this once the link has been attached by clicking on the attachment and changing permissions.

If you attach a copy the recipient can edit the file (unless protection is enabled) however the edits will not be reflected in the original file.
---
OneDrive for Business App
Windows and macOS users can install and run the OneDrive for Business application, which places a local copy of the contents of your OneDrive (cloud) on your computer's hard drive, in a folder of your choosing. You can also specify which folders to sync. This feature allows files to be edited even when no internet connection is available. It also ensures that these local files are all up-to-date across all devices, whether they are accessed locally or directly from the cloud.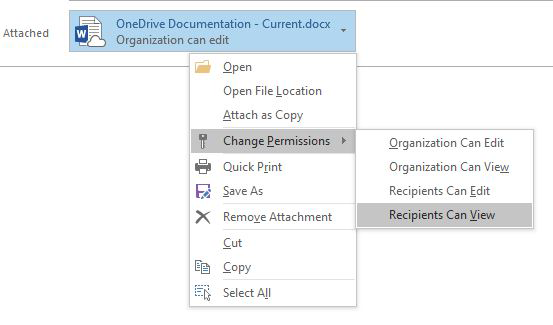 Installing OneDrive for Business
Installation of OneDrive on local systems is not required but may offer more convenient access by making files available locally whether or not the system is connected to the internet. The OneDrive for Business application is available for Windows and macOS though the Microsoft portal, as are other Microsoft applications, including Office365.

Most Windows 10 systems come with OneDrive for Business pre-installed. Windows 10 users should still follow the directions below to install OneDrive for Business. Doing so will allow you to set preferences such as what folders are synced and where the local versions are stored on your computer.
Log in to Office365 from a Windows or macOS computer.
After you select Work or School Account, you'll be re-directed to a UD login screen. Log in with your UD email address (UDelNetID@udel.edu) and password. You will need to use MFA (Microsoft Multi-Factor Authentication) as well.
Click the OneDrive square.

Windows screenshot:


macOS screenshot:


Click Get the OneDrive apps (towards the bottom of the left pane).

Follow the on-screen instructions to complete the installation.
Local File Storage
On Windows, by default, OneDrive for Business files are stored in the user's folder. By running the installer you can designate the location of local storage.
Wherever you choose to store the local copy, OneDrive will create a folder called OneDrive - University of Delaware - o365. The folder will be displayed in Explorer in the left panel. In addition, OneDrive for Business - o365 will appear in the file save menu in all Microsoft Office apps.