Gurpreet Dhillon
Lecturer,
Textiles and Clothing,
Sophia College,
Ajmer
Gurpreet Dhillon is a lecturer in textiles and clothing in the Department of Home Science at Sophia College, Ajmer, India. Dhillon's teaching is focused on traditional textiles, apparel making, garment production, and textile science. She holds a graduate degree in textiles and clothing from Punjab Agricultural University and has been involved in the profession of teaching for eight years.
Dhillon has shown her interest in social responsibility matters by affiliating herself with the Vocational Rehabilitation Centre in Ludhiana, where she designs garments for inmates with physical disabilities. She also designs clothing for Klassic boutique in Ludhiana.
Indians are world famous for their magnificent workmanship and for producing exceptionally beautiful textiles. Unity in diversity is expressed not only through culture and customs, but also in costume and decoration. Each state has its unique embroidery expressing the lifestyle of its people, their occupations, customs, thoughts, beliefs, and likings.
The belt comprising the Saurashtra and Kutch regions of the state of Gujarat, up through northern Gujarat and western Rajasthan and into the Thar Parkar district of Sind in Pakistan was once the world's richest source of embroidery in previous centuries.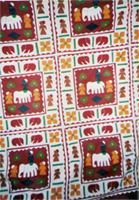 Rajasthan, a princely state in northwest India bordering Pakistan, has been rightly called the treasure throne of Indian handicrafts. Here, where the Thar Desert burns the land, people seem to compensate with riotous colors and exuberant form, creating a sense of luxuriance through their art. There is a profusion of hues in the buildings, the clothing, and in the embroideries of the region. Each textile product made is a source of fascination that exhibits visual and aesthetic flavor.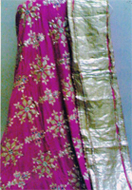 A large variety of embroideries are practiced in different districts of Rajasthan. The main types of embroideries are Mochi Bharat, Heer Bharat, appliqué work, and bead work. Court embroidery is practiced in the princely cities of Jaipur (the capital and largest city) and Jodhpur. Marriage costumes, wall hangings, quilts, cradle cloths, and animal trappings are embroidered, appliquéd, decorated with bead work, and embellished with mirrors, sequins, buttons,
and shells.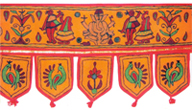 The court embroidery consists of Gota, Salma, and thread work. A special feature of Rajasthan that is popular all over the world is silk embroidery done on leather goods, especially shoes and purses. It is amazing to note that the women of remote villages, unexposed to modern civilization, are the experts in preparing articles of such great aesthetic value.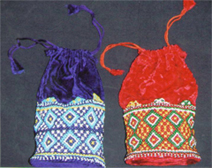 Most of the brightly colored, patterned, and embroidered blouses and shirts, decorated handbags, and rucksacks that are displayed in Western markets come from Rajasthan.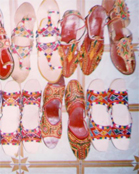 Rajasthan is a colorful state known the world over for its embroideries. Centuries-old skill and imperial heritage make the traditional art and craft of Rajasthan a world-famous attraction. The dazzling traditional garments and textiles attract domestic as well as foreign tourists and markets and are a good source of income generation for the women who create these embroidered pieces of art. More work yet needs to be done in relation to self-sufficiency and women's empowerment to protect and enhance the revival of the traditional embroideries of Rajasthan.


Top