Kelly Cobb
Instructor,
Fashion and
Apparel Studies,
University of Delaware
Kelly Cobb is an instructor in the Department of Fashion and Apparel Studies at the University of Delaware. She holds a B.F.A. in fiber from The Maryland Institute, College of Art (MICA) and an M.F.A. from the University of Florida. She has taught textile design at the Antoinette Westphal College of Media Arts and Design at Drexel University, the University of the Arts in Philadelphia, and MICA.

Cobb is a Philadelphia-based creative designer. Currently, she is applying concepts used in agricultural sustainability initiatives such as the slow/local food movement and community supported agriculture to textile and apparel production by focusing on slow and local production of an heirloom product via artisanal methods.
I imagined that I would first experience India through a barrage of sandalwood or jasmine and brilliant colors, like I had witnessed in books and movies. I was delighted when India offered me this exact welcome — however, it was not my first impression.
My first introduction to India was through the young twenty-something Indian woman who sat next to me during the 15-hour flight from Newark, New Jersey, to New Delhi. What I gathered through a few brief interactions was that she was coming home after a very successful shopping spree in suburban New Jersey; she loved Victoria's Secret, denim, Gwen Stefani, watching "Friends," and French manicures and pedicures. While at first, this young woman may seem contrary to the focus of my research in artisanal methods of textile design for apparel in India, she is essential to its subsistence, and I will return to her later in this article.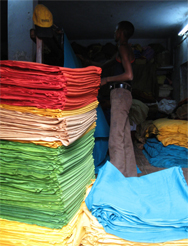 The research focus of my India trip was to observe Indian textiles from process to product, documenting each product's life cycle. I visited natural dye and resist units, screen and block printing units, and bandhani [1] tie-and-dye sectors. I then traced the textiles forward from the dye pot or print table and into the showroom with the hope of linking the product from consumer to maker and origin.
I observed small industries practicing traditional textile processes as well as the apparel companies that contract with them. (I encourage you to view the companion slide show that highlights many of the processes and products I address in this article, as well as many more that I will not be able to touch on here. I also encourage you to visit the links to organizations that are cultivating the evolution of traditional Indian handicrafts and to the artists whose livelihoods depend on their craft.)
Bespoke [2], or custom-tailored garments, dominate the Indian apparel market. Among Indian consumers, 54 percent favor independent retailers, where they purchase fabrics from which cultural garments (such as saris) are made to order. Trends in the U.S. retail landscape are quite different, as mass merchants have replaced independent retail stores as a preferred channel: U.S. consumers buy most of their clothing from department stores (27 percent), chain stores (22 percent), mass merchants (19 percent), and specialty stores (14 percent). [3]
Aslam Bhai is a quiet but savvy businessman who owns several natural dye, print, bandhani, and sewing units in Ahmedebad under the moniker Asopolav. Mr. Bhai lead us through narrow streets to three of his units which were scattered around the Muslim section of Ahmedebad, the major textile sector of the city. You may view images of the units in the companion slide show. I will talk here about a unit dedicated to gold printing using a method called rogan.
Rogan is an art of cloth printing practiced in the Kutch District of Gujarat. This particular art is used in converting an ordinary inexpensive cloth into a stylish one. Rogan printing involves the use of a thick paste, which is prepared by boiling the oil of safflower, castor, or linseed and pouring it into water. This paste is mixed with chalk, color pigment, and a binding agent to form a thick dye. The painting on the cloth is done using a stick, rod, or a metal block. Geometric and floral designs are the norm. Red, blue, and yellow are the usual colors that are employed.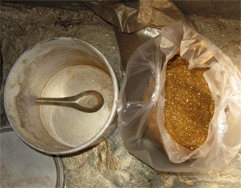 The rogan unit we visited had adapted traditional paste methods to include a gold surface treatment. [4] We entered through a metal door into a courtyard surrounded by several large stone and metal industrial buildings. Each housed a separate process. Lying on the ground across the 80 yards from the door to our first destination were many yards of blue and red cotton print cloth with small gold-printed icons. This was the drying/curing area for the rogan prints. Inside the rogan unit was a storage area with hundreds of copper stamps. On the floor near the storage area were large tubs of powdered gold; each was a different strength or grade of gold.
To create a gold rogan print, the fabric is pinned down on a long print table. Sharp-smelling glue is stamped on and left to dry for only a few minutes. The powdered gold is gathered in gauze, wrapped tightly in a ball, and stamped firmly on the glue. The prints are aired and sunned for one week to cure. The rogan we saw being demonstrated was stamped on a very delicate white silk. A border of floral icons along with larger floral icons in the field of the fabric were stamped onto it. Small dots were added to fill in the empty spaces. Once the fabric has cured, it is ironed and sent to Indian retail units ranging from boutique to superstore, depending on the style and quality of material. The process of making this print may be viewed on the companion slide show.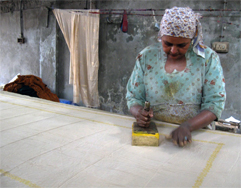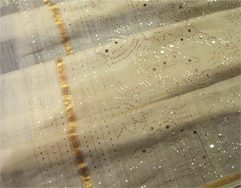 The delicate white silk rogan print was very similar to a rogan dupatta [5] I spotted at BANDHEJ, an apparel boutique whose market is contemporary Indian women who appreciate quality workmanship and traditional methods evolved into wardrobes that combine cultural and Western apparel.
BANDHEJ works with handloomed or hand-crafted (hand-woven, block-printed, tie-and-dye) textiles. All textiles are produced by highly skilled traditional craftspeople from all over the country, including Andhra Pradesh, Bihar, Karnataka, Madhya Pradesh, Kutch, Rajasthan, and Benaras. Clothes are designed and produced at the BANDHEJ workshop in Ahmedabad. Intricate embellishments, hand embroidery, mookesh work, and appliqué are done by a large number of traditional craftspeople in and around Ahmedabad.
If Bollywood is the "fair princess" of India, then mass media is her "dashing prince." Everywhere you look, read, and watch, the two are dancing hand-in-hand. I spotted rogan printing on several Bollywood stars who graced movie billboards. I found that the pages of popular glossies were filled with stars wearing fashions that were either "couture cultural" or Western garments, most with some form of traditional craft technique present. Bollywood celebrities are essential brand ambassadors for the traditional craft sector and its evolution into contemporary Indian fashion. You might be asking, who dresses the stars? Indian designers, such as National Institute of Design (NID) alumnus Manish Malhotra, do. In viewing Malhotra's collection archive, it is clear that his contemporary aesthetic embraces traditional processes.
This is where I return to my airplane friend, the young Indian woman with the French manicure. According to the CIA World Factbook, [6] the median age of Indians is 25.1, and they account for 64.3 percent of India's total population. India's millennial generation is entrepreneurial, diverse, multitasking, tech-savvy, and wants to make a difference in their world. Often described as "game changers," this is the generation that will or will not mesh tradition with innovation as retail markets emerge on their own turf.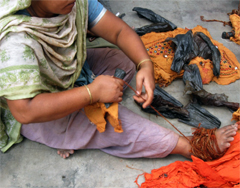 Craft is remembering that art is seen, felt, and heard as well as understood. It is knowing that not all ideas start with words and thinking with the hands as well as the head. [7] How craft appreciation is learned and assimilated in future design is a critical issue. Handicraft in India has not homogenized; each type of craft is still reminiscent of a particular state or population. Although traditional processes are apparent in popular modern fashion, with a rising upper-middle class and the adoption of Western styles, it is not certain that the younger generation will continue to be exposed to and develop an appreciation of craft.
While in India, we met with Nien Siao, the head of fashion design at Pearl Academy of Fashion. Siao explained that their student population lacks the knowledge of traditional craft: "They are suburban kids interested in malls and the Internet." Siao and her colleagues have developed a wonderful second-year experience for every student in the fashion department. Her goal is that students develop an appreciation of craft, but also that they will carry the knowledge forward as they develop their own design practices. The top fashion schools in India all have similar craft initiatives. Some examples follow:
Pearl Academy Craft and Culture Focus: Second-year students gain an understanding of fabrics and their application through surface ornamentation and embroidery, both hand and computerized. This is built gradually within the course against a sound backdrop of industry visits and awareness of Indian culture and crafts of various regions.
Craft Cluster Initiative at NIFT: Students learn of the opportunities in the developing sector and act as "young change agents." Students get a unique opportunity in their fourth semester to study the craft sector by visiting the craft region to study the socio-economic and cultural context, interacting with the craftspeople, and following up with appropriate design and technology for market exposure and product development.
NID: Working in the field alongside a variety of skilled craftspeople on a multifaceted project, design students are given ample opportunity for material and technique exploration along with a chance to develop a sensitivity to and understanding of traditional crafts.
According to demographic experts, the millennial generation brings in a totally fresh perspective to business. They are more tech-savvy, are into instant communication technologies, Internet friendly, and confident.
Perhaps there is some hope that Indian youth will keep traditional processes alive while they continue to modernize. "Basically, clothes are meant to protect ourselves," wrote college student J. Kavitha Devi in a readers' commentary about youth and fashion that appeared in an online edition of The Hindu, India's national newspaper. "So, one has to keep in mind that modernity is not all about following the West. We should take great pride in sticking to our tradition." [8]
Another contributor, Shalini Giridhar, wrote, "The youth are more aware of the latest in fashion. They wear trendy outfits and their clothing is modest. However, they are not blindly following the Western style. The clothes they wear are a fusion of Western and traditional attire. Everyone is in tune with changing trends in fashion, as most of the famous branded items are available at affordable prices."
As I mentioned previously, design educators in India have developed innovate strategies that teach appreciation for handicrafts, with the intent that a knowledge and value of craft and process can shape and inform the future of design. This influence is apparent in designs by top designers who dress highly visible celebrities, such as the stars of Bollywood, in contemporary fashion informed by traditional craft.
How will hand techniques transition from small-scale to large-scale production and keep the mark of the hand? How will one-of-a-kind cultural garments translate as fast fashion? It is an exciting time of change in India, and the surge of potential in India is palpable. In the coming years we will witness how the young designers and consumers of India mesh the rich lineage of handicraft into emerging retail markets.
References
1. Bandhani work involves tying and dyeing pieces of cotton or silk cloth; the main colors used in bandhani are yellow, red, green and black. Bandhani work, after the processing is over, results in a variety of symbols including dots, squares, waves, and strips. Source: http://en.wikipedia.org/wiki/Bandhani_work, accessed on June 1, 2009.

2. The distinguishing points of bespoke tailoring are the buyer's total control over the fabric used, the features and fit, and the way the garment should be made. More generally, bespoke describes a high degree of customization and involvement of the end-user in the production of the good. Source: http://en.wikipedia.org/wiki/Bespoke.

3. http://www.cottoninc.com/TextileConsumer/TextileConsumerVolume39/#2

4. http://en.wikipedia.org/wiki/Rogan_printing, accessed June 1, 2009.

5. A dupatta is traditionally worn across both shoulders. However, the dupatta can also be worn like a cape around the entire torso. The material for the dupatta varies according to the suit: cotton, georgette, silk, chiffon, and more. Source: http://en.wikipedia.org/wiki/Dupatta

6. https://www.cia.gov/library/publications/the-world-factbook/geos/in.html#People

7. Mark Jones, Director, Victoria & Albert Museum.

8. http://www.hindu.com/mp/2004/02/09/stories/2004020901110200.htm

Author's Note: I learned far more than can fit in this article and met so many wonderful designers and individuals dedicated to craft. For more impressions and information on my research on artisanal crafts, including pictures and links please visit my Web site http://www.garmentresearch.org/wpress/?page_id=199.
Top