Kevin M. Burke
President and
Chief Executive Officer,
American Apparel &
Footwear Association

When it comes to educating companies and organizations about the global challenges facing the U.S. apparel and footwear industry, the American Apparel & Footwear Association (AAFA) is the recognized leader. The AAFA is the national trade association representing apparel, footwear, and other sewn products companies and their suppliers that compete in the global market.
At the AAFA, we promote our members' competitiveness on two levels. First, we work hard to remove the international trade barriers, like tariffs, that keep our member companies from making the cost-effective and innovative clothing and shoes hard-working American families demand. Second, and most importantly, we empower our members to build their knowledge base and enhance their own competitiveness within the industry.
These tasks are accomplished by AAFA's timely and informative educational programs through which members can learn about industry trends and issues from experts while taking advantage of excellent opportunities for networking with industry peers and customers.
Each year, the AAFA produces dozens of helpful seminars to address the current and potential issues facing apparel and footwear producers and their suppliers. For instance, in late spring, the AAFA hosts its annual International Sourcing, Customs and Logistics Integration Conference, which is designed to equip attendees with knowledge to adapt to constant changes in the supply chain and provide insight and guidance on how best to navigate related challenges. At the 2009 event, held in May in Norfolk, Virginia, the AAFA brought together sourcing leaders from Wal-Mart, Wolverine World Wide, Inc., Kellwood, UPS, and others to discuss new trends in sourcing, transportation, and technology.
As new issues rapidly emerge, the AAFA utilizes timely and innovative webinars to continually update its members. One issue of growing importance to the U.S. apparel and footwear industry is that of sustainability and environmental and social responsibility. The AAFA has worked hard to organize a series of programs to educate members about eco-friendly business and production practices, as well as legislative and regulatory changes that may impact them.
To that end, in May 2009, the AAFA sponsored an "on the ground" conference in Portland, Oregon, America's first "green" city. During that conference, industry leaders spoke about the need to incorporate a culture of responsibility into the U.S. apparel and footwear industry. As a follow-up, the AAFA will conduct a series of webinars and in-person seminars to drive the adoption of sustainable business practices among members of this industry.
For the AAFA, sustainability is about creating an industry lifestyle that goes well beyond recycling and using energy-efficient machinery. It is a theme that should encourage the industry to rethink its approaches toward marketing, carbon and energy management, product stewardship, and packaging.
In addition, the recently enacted Consumer Product Safety Improvement Act (CPSIA), a sweeping piece of legislation that seeks to improve public safety and health, has created many uncertainties and implications for apparel and footwear producers. The CPSIA has put the industry at a near standstill. Companies and suppliers have been unsure about the far reach of this new law and have sought out guidance before continuing to make and/or test their garments and shoes. The AAFA has taken a leading role in providing industry counsel and representation and has taken its assistance to the far reaches of the globe. Because most of the AAFA's members source their goods internationally, the AAFA recently took its commitment to educating the members of these industries worldwide by hosting a large, multi-city seminar in China on the new product safety regulations in order to inform suppliers about the new regulations.
The AAFA firmly believes that companies should learn about emerging trends and issues, like sustainability and product safety, before they become problematic for the industry. By continuing to adopt new business practices, techniques, and innovative leadership skills, companies can shoulder any potential burdens brought about by regulatory or legislative changes.
The AAFA also better connects apparel and footwear manufacturers with retail and consumer trend data to help them take the pulse of the retail market. Apparel and footwear companies are at their best when they are properly gauging their consumer base. This past spring, the AAFA connected members with a retail expert from SAP Retail to discuss how social media outlets, like Twitter and Facebook, are revolutionizing consumer outreach efforts. And, with the assistance of the NPD Group, the AAFA annually releases a complete statistical analysis of apparel and footwear sales to help members plan for the future.
Using every tool available, the AAFA works hard to ensure that member companies are fully aware of all the issues facing the apparel and footwear businesses. Doing so helps companies remain competitive in the global marketplace — a marketplace that will continue to be competitive in the face of economic challenges and legislative and regulatory changes. The American Apparel & Footwear Association does not want to see U.S. brands and companies left behind as the apparel and footwear industry continues toward further innovation and progress.
Top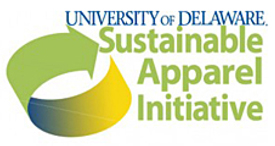 What does it mean for a clothing or footwear company to be environmentally sustainable? Browsing some brands' Web sites, you might think a company can lessen its impact on the environment just by using organic cotton in some of its clothing. But it's not that simple.
The University of Delaware's Sustainable Apparel Initiative (UDSAI) is demystifying the process of becoming more environmentally sustainable for brands and retailers. Companies seeking this information are invited to read and utilize UDSAI's recently produced policy guide, "Creating a More Environmentally Sustainable Apparel Business: Policies for Apparel Brands and Retailers."
"Sustainability is the 'buzz' throughout all industries. The problem is there is no clear definition of what this means," said Rick Horwitch of Bureau Veritas Consumer Products Services. Bureau Veritas is an international firm that helps clients comply with standards and regulations relating to quality, health and safety, environment, and social responsibility.
"I applaud the University of Delaware for taking on this daunting task of trying to put some structure and context around this very important issue. UDSAI will help bring clarity and direction," Horwitch said.
University of Delaware faculty and students collaborated with industry professionals involved with environmental sustainability to research best practices. Here is a sampling of UDSAI's recommendations that are detailed in the guide:
Eliminate waste in all points of the supply chain.
Eliminate excess product manufacturing by balancing supply to demand.
Develop and implement advertising and marketing strategies that avoid greenwashing — that is, unspecific and unsupported claims about a product's environmental impact.
Consider and implement end-of-life strategies (recycle, renew, or reuse) when choosing materials, designing, and producing apparel.
"The apparel industry is predicated on change and planned obsolescence, which often results in overconsumption and waste throughout the value chain," said Huantian Cao, UD associate professor of fashion and apparel studies and co-director of UDSAI. "UDSAI attempts to provide some simple guidelines that, when followed, will result in a more sustainable company."
UDSAI's work was made possible through collaboration with the following partners: American Apparel and Footwear Association, Bureau Veritas, Nike, and Under Armour.
Established in 2008 by the University of Delaware Department of Fashion and Apparel Studies in partnership with its key industry partners, UDSAI leverages the department's extensive expertise in apparel and textiles sustainability and social responsibility, consumer behavior, and apparel design to research, design, create, and demonstrate a framework of guidelines, practices, programs, and solutions to shape the character of the apparel and retail industries in their evolution toward sustainability. The aim is to have positive economic, environmental, and social benefits for the world and its people.
Top

Top