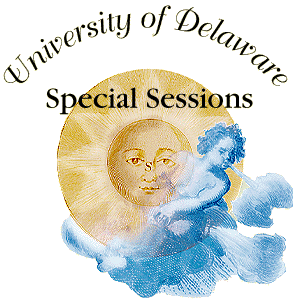 University of Delaware Home
Please direct Special Sessions questions and suggestions to
Allan Fanjoy
(fanjoy@udel.edu)
The University of Delaware has a two-semester academic calendar, but offers two "Special Sessions" each year as well. The Summer Sessions and the Winter Session are both optional terms - they are not required for the completion of any undergraduate degree. They do, however, offer an uncommon degree of flexibility for matriculated, visiting, and Continuing Education students to get the courses they want on the schedule they want. Most of the courses meet on the Newark campus, but there are a number of programs that involve travel abroad and within the U.S. as well.

Participation in the Summer and Winter Sessions neither requires nor implies admission to the University of Delaware. Anyone who wishes to take courses in these terms is most welcome to do so.

Winter Session is a 5-week term that is conducted between the Fall and Spring semesters. It begins two weeks after the end of Fall exams, and runs Jan.5 - Feb. 7, 2009. Registration for Winter begins October 13. The complete Registration Booklet for Winter-2009 is now available on-campus, at all Continuing Studies sites, and online.

The Summer is comprised of two sessions. The First Session of Summer 2009 begins June 8 and the Second Session begins July 13. Most classes meet daily for 5-weeks. There are also a number of First Session classes that meet for 7 1/2-weeks. The typical schedule for those 7 1/2 week classes is to meet two evenings per week.

Preliminary information about Summer-2009 will be online by the end of January. The summer registration booklet will be complete in March, and registration will begin in April. Meanwhile, the complete details of Summer-2008 are still online and would be representative of the upcoming summer session.