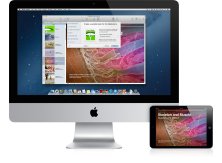 Ebook Authoring
Module 12: Making Free Updates to Purchased Books
In 2012 Apple created a mechanism in the iBookstore for updating purchased books. Especially if you write books about emerging technologies such as the iPad, changes in iOS can make your book go out-of-date, and this may frustrate users who bought your book but find it no longer current.
Happily, EPUB 3 and multi-touch books have a versioning feature at the iBookstore. When you publish a new version you can provide book versioning information that makes the updated book replace the old book on the iBookstore. A badge on the purchased book notifies buyers of the old book that a new version is available for download. If the customer decides to download the new version, it replaces the prior version on their device.
More information about Book Versioning is in the iBookstore Asset Guide. To obtain a copy of this guide, log on to iTunes Connect where you can download the guide from the Deliver Your Content module.