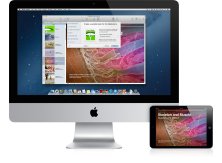 Ebook Authoring
Module 6: Deconstructing an IBOOKS Package
Just as you discovered the true nature of an EPUB when you deconstructed an EPUB package in Module 4, so also can you gain insight into the nature of an iBooks Author publication by deconstructing an IBOOKS package. The major discovery this deconstruction leads to is realizing that an IBOOKS package is very similar to an EPUB in that an IBOOKS is actually a website that has been zipped up into an eBook package. Instead of strictly following the IDPF EPUB protocol, however, Apple has extended EPUB with its own proprietary codes for creating multi-touch eBooks. Perhaps some time in the future, some of Apple's IBOOKS innovations will make their way into the EPUB standard. In the meantime, to deconstruct an IBOOKS package, follow these steps:
If you have not already done so, use the iBooks Author Share-->Export option to export an IBOOKS version of your book.
Copy the exported IBOOKS file into a folder on your computer where you can work on the copy without altering the original IBOOKS file.
Use the Macintosh Finder or the Windows Explorer to change the copied eBook's filename extension from IBOOKS to ZIP.
Extract the files from the ZIP by double-clicking (Macintosh) or right-clicking (Windows) the ZIP file.
Inside the unzipped package you will see a mime type, a packing list, and two file folders named OPS and META-INF. Click to enter the OPS folder.
OPS stands for Open Publication Structure. Observe how the OPS folder contains an XHTML file for each page in the book. This differs from the EPUB package in which there was one XHTML file for each chapter, as opposed to page.
Click to see the contents of the Assets folder. Notice how the file structure contains places for storing equations, picture frames, thumbnail images, SVG files, and other kinds of files needed to support the widgets with which Apple has extended EPUB into IBOOKS.
Click to inspect the contents of the thumbs folder. You will see a large and small thumbnail image of each page in your book. These thumbnails appear in the book's contents when you are reading the book and you tap the contents icon to see the Table of Contents. The small thumbnails are for the 1024x768 iPad screen, and the large thumbs are for the 2048x1536 iPad Retina display.
During class, we will work through this process of unzipping an IBOOKS package to look further under its cover, so to speak, and see how Apple extended EPUB to create the multi-touch IBOOKS format.