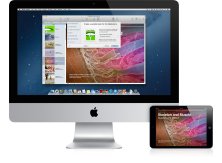 Ebook Authoring
Module 5: Writing Multi-Touch Books with iBooks Author
iBooks Author is the Macintosh app for creating multi-touch books for the iPad. There is happily no charge for getting iBooks Author, which you can freely download from www.apple.com/ibooks-author/ where there is a movie that beautifully shows its features. The only string attached, which you must agree to when you accept the iBooks Author license, is that you must publish in the iBookstore if you charge money for your book. If your book is free, you can publish it wherever you want, but if you charge money for your multi-touch book, you must publish it in the iBookstore.
If you know how to use Pages, you will find that iBooks Author works much the same way. In addition, iBooks Author adds powerful new features, including a book navigator that helps you move around the various chapters, sections, and pages in your book. There are also widgets, which enable you to add multimedia and interactivity to your book. Your course textbook, Publishing with iBooks Author, provides the following tutorials that you should work through to learn the following:
Chapter 1, Tour. This is an orientation to iBooks Author, covering the template chooser, toolbar, format bar, zoom, navigation, book menu, page thumbnails, book outline, and document inspector. As you will see, iBooks Author contains many tools called Inspectors. You use the Inspectors to reveal the settings for objects onscreen and modify the settings as you wish.
Chapter 2, Book Building Basics. Here you learn about fixed versus fluid page layouts, landscape versus portrait orientation, and the functioning of widgets in landscape versus portrait orientation.
Chapter 3, Text. The heart of the book, Chapter 3, teaches you how to write, import, and format text. You learn how to use the Styles Drawer to apply paragraph, character, and list styles. Then you learn how to make links, sidebars, text boxes, and tables. Here appears another Inspector, called the Table Inspector, which you use to format and style your tables. At runtime, iBooks has special support for tables, which the user can double-tap to go full-screen and take a closer look.
Chapter 4, Objects. Here you learn about the object-oriented nature of iBooks Author, which provides a common interface for creating and customizing the following kinds of objects: images, figures, shapes, charts, and widgets.
Chapter 5, Layouts. Chances are the book you want to write can be created just fine using one of iBooks Author's built-in templates. If you need to create your own custom layout, however, Chapter 5 provides a tutorial on creating layouts.
A great way of exploring the capabilities of iBooks Author is to download and explore the free chapters that are available from the following textbooks created with iBooks Author:
Printed below is a quick list of the widgets that you see featured in the sample chapters. See also Apple's widget overview that is online at support.apple.com/kb/PH2789.
Keynote Presentations. Anything you make with Keynote can be embedded in your book. See http://support.apple.com/kb/PH2793.
Interactive Images. You can create hot spots for the user to interact, zoom, and learn more.
Interactive Galleries. These are like embedded slide shows with captions.
Scrolling Sidebars. Use these to present auxiliary content for more info if wanted.
Pop-Overs. These appear when the user taps affected text or pictures.
Media (audio and video). Powered by HTML5, audio and video no longer need theFlash player.
Chapter Reviews. The process of adding review questions is described at support.apple.com/kb/PH2792. These questions can be embedded wherever you want to test the reader's knowledge; that is, chapter reviews do not need to be at the end of the chapter.
3D Images. Users can use multi-touch gestures to rotate and explore 3D images. See support.apple.com/kb/HT5093.
HTML Modules. If you are knowledgable in HTML, you can extend iBooks Author by writing HTML modules. See support.apple.com/kb/HT5068.