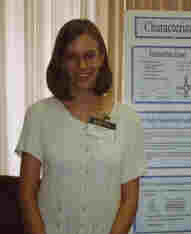 Scholar: Jennifer Paulson
Major: Chemistry
Research Mentor: Eugene Mueller, Department of Chemistry and Biochemistry
Thesis Project Title: Characterization of E. coli Pseudouridine Synthase Mutants
Current Position: Cellular Biology Ph.D. Program, University of California at San Francisco
Publications:
Vidhyashankar Ramamurthy, Steven L. Swann, Jennifer L. Paulson, Christopher J. Spedaliere, and Eugene G. Mueller,
Critical Aspartic Acid Residues in Pseudouridine Synthases,
Journal of Biological Chemistry 1999, 274, 22225-22230.

Eugene G.Mueller, Christopher J. Buck, Peter M. Palenchar, Lora J. Barnhart, and Jennifer L. Paulson,
Identification of a Gene Involved in 4-Thiouridine Generation in tRNA,
Nucleic Acids Research 1998, 26, 2606-2610.

Honors and Awards: Barry M. Goldwater Scharlarship; Elizabeth Dyer Award for Excellence in Chemistry, Second Place Biochemistry Division, 63rd Intercollegiate Student Chemists' Conference, Gettysburg College, April 10, 1999.
Recipient of an NSF Graduate Fellowship at the University of California at San Francisco, 2001.