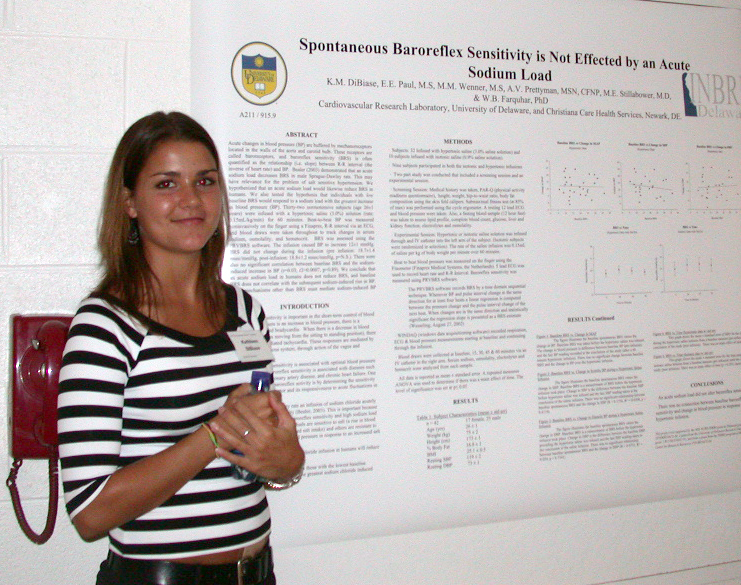 Spontaneous Baroreflex Sensitivity is Not Effected by an Acute Sodium Load
Kathleen M. DiBiase, E.E. Paul, M.M. Wenner,A.V. Prettyman, M.E.Stillabower, M.D, & W.B. Farquhar
Cardiovascular Research Laboratory, University of Delaware, and Christiana Care Health Services, Newark, DE.


Acute changes in blood pressure (BP) are buffered by mechanoreceptors located in the walls of the aorta and carotid bulb. These receptors are called baroreceptors, and baroreflex sensitivity (BRS) is often quantified as the relationship (i.e. slope) between R-R interval (the inverse of heart rate) and BP. Bealer (2003) demonstrated that an acute sodium load decreases BRS in male Sprague-Dawley rats. This may have relevance for the problem of salt sensitive hypertension. We hypothesized that an acute sodium load would likewise reduce BRS in humans. We also tested the hypothesis that individuals with low baseline BRS would respond to a sodium load with the greatest increase in blood pressure (BP). Thirty-two normotensive subjects (age 26±1 years) were infused with a hypertonic saline (3.0%) solution (rate: 0.15mL/kg/min) for 60 minutes. Beat-to-beat BP was measured noninvasively on the finger using a Finapres, R-R interval via an ECG, and blood draws were taken throughout to track changes in serum sodium, osmolality, and hematocrit. BRS was assessed using the PRVBRS software. The infusion caused BP to increase 12±1 mmHg. BRS did not change during the infusion (pre infusion: 18.7±1.4 msec/mmHg, post-infusion: 18.8±1.2 msec/mmHg, p=N.S.). There were also no significant correlation between baseline BRS and the sodium-induced increase in BP (r=0.03, r2=0.0007, p=0.89). We conclude that an acute sodium load in humans does not reduce BRS, and baseline BRS does not correlate with the subsequent sodium-induced rise in BP. Thus, mechanisms other than BRS must mediate sodium-induced BP changes. Supported by the INBRE Grant.