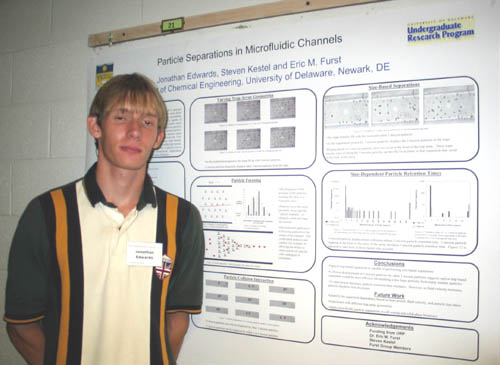 Particle Separations in Microfluidic Channels

Jonathan Edwards, Steven Kestel, and Eric M. Furst
Department of Chemical Engineering



Microfluidics is an emerging field in both chemical and biological analysis, and in chemical production. Commonly, microfluidic devices are characterized by tiny channels which direct minute quantities of fluid. This project focused on particle separations in microfluidic systems. Optical traps, or "laser tweezers", create a gradient force which is capable of holding a colloidal particle in place. Arrays of optical traps were then used to conduct sized-based separations of particles. For instance, when a solution of one and three micron particles flows through the traps, the three micron particles are trapped while the one micron particles pass through. To construct the microfluidic channels, a rapid and inexpensive process called soft lithography was employed. Next, to form the optical trap arrays, a 1064 nm Nd: YAG laser was scanned from trap to trap. For this project, hexagonal trap arrays were formed. Several parameters which govern these separations were investigated, including laser power, fluid velocity, trap array geometry, and particle size ratios. Also, the effect of particle size on retention time and the collision interaction between particles was characterized. Applications of microfluidic particle separations include cell sorting and solid-phase bioassays.