Microscopic and Biochemical Analysis of ENOD16,
a Symbiosome Membrane Protein in Legume Root Nodules

Joseph L. Tardio, Christina M. Catalano, and D. Janine Sherrier
Departments of Biological Sciences and Plant & Soil Science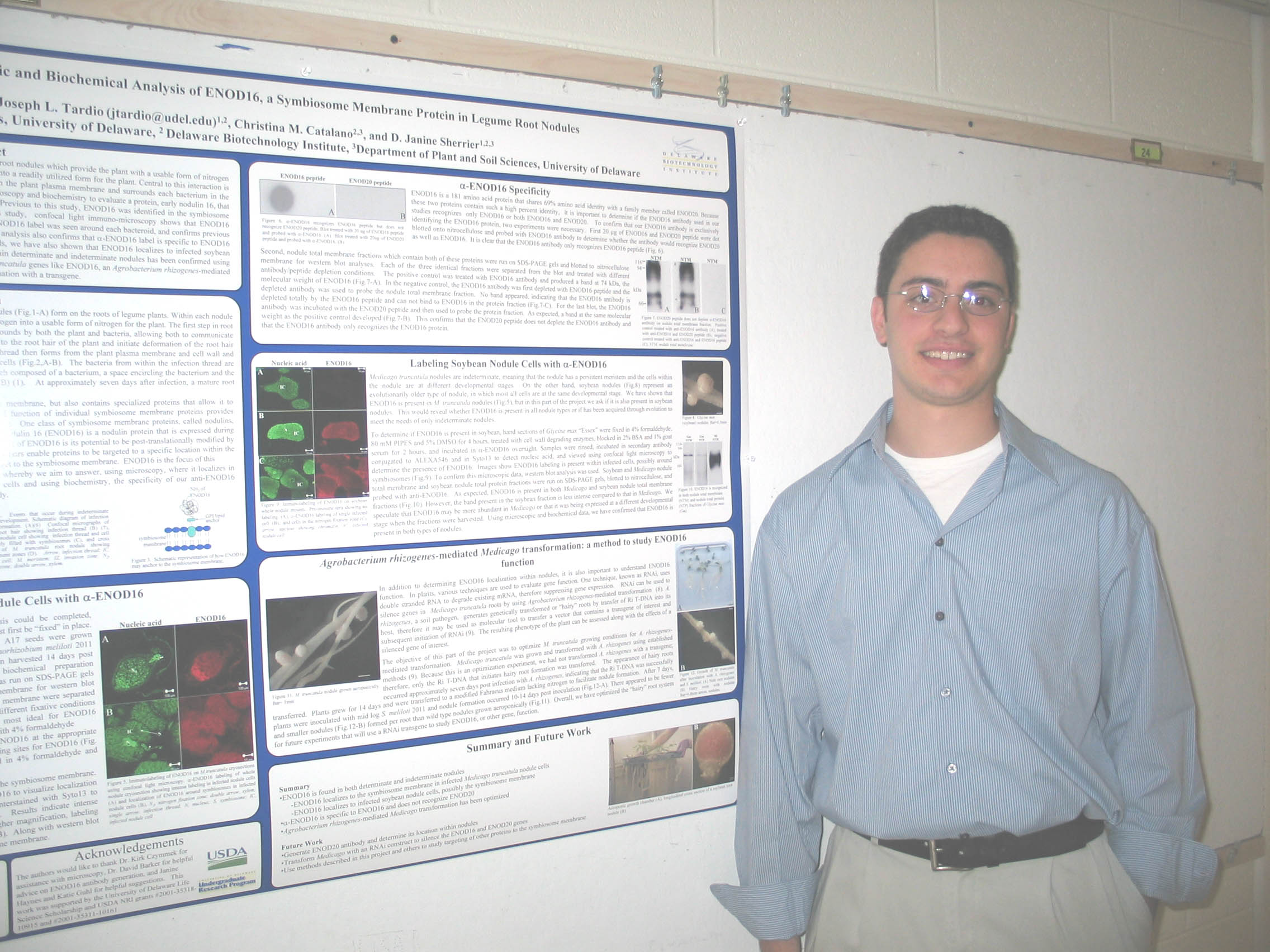 The symbiosis between legume plants and rhizobia bacteria results in the formation of root nodules which provide the plant with a usable form of nitrogen for growth. The rhizobia contained within each nodule convert atmospheric nitrogen into a readily utilized form for the plant. Central to this interaction is the role of the symbiosome membrane, a specialized membrane that is formed from the plant plasma membrane and surrounds each bacterium in the nodule. To better understand symbiosome membrane specialization, we have used microscopy and biochemistry to evaluate a protein, early nodulin 16, that travels through the secretory pathway and is targeted to the symbiosome membrane. Previous to this study, ENOD16 was identified in the symbiosome membrane using proteomics and further confirmed in western blot analysis. In this study, confocal light immuno-microscopy shows that ENOD16 localizes within infected nodule cells of Medicago truncatula. More specifically, a-ENOD16 label was seen around each bacteroid, and confirms previous western blot data that ENOD16 localizes to the symbiosome membrane. Western blot analysis also confirms that a-ENOD16 label is specific to ENOD16 and does not recognize other similar proteins such as ENOD20. Using these methods, we have also shown that ENOD16 localizes to infected soybean nodule cells and possibly the symbiosome membrane. The presence of ENOD16 within determinate and indeterminate nodules has been confirmed using microscopic and biochemical data. In order to determine the function of specific M. truncatula genes like ENOD16, an Agrobacterium rhizogenes-mediated Medicago transformation system has also been optimized in order to perform transformation with a transgene.
This work was supported by the University of Delaware Life Science Scholarship and USDA NRI grants #2001-35318-10915 and #2001-35311-10161.