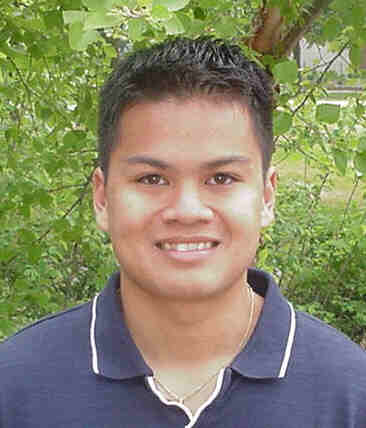 Scholar: Erwin C. Puente
Major: Biology
Research Mentor: Mary C. Farach-Carson, Department of Biological Sciences
Project Title: Mechanical Load Effects on Voltage-Sensitive Calcium Channel mRNA Expression
Poster Presentation: Mechanical Stimulation by Four Point Bending Device and Fluid Shear Increase Voltage Sensitive Calcium Channel Cav1.2 Subunit mRNA Expression in Osteoblastic MC3T3-E1 Cells. Experimental Biology Meetings, San Diego, CA. April 11-15, 2003. First Prize in ASBMB Undergraduate Poster Competition.
Awards and Honors: Richard M. Johnson Jr Memorial Award to a junior in Biological Sciences, Phi Kappa Phi. Phi Beta Kappa. Alpha Lambda Delta. Beta Beta Beta Biological Sciences Honor Society (officer). Biological Sciences Academic Excellence Award. American Association of University Professors Undergraduate Student Award.

Publication: J. J. Bergh, Y. Shao, Erwin Puente, Randall L. Duncan, Mary C. Farach-Carson (2006). Osteoblast Ca(2+) permeability and voltage-sensitive Ca(2+) channel expression is temporally regulated by 1,25-dihydroxyvitamin D(3). Am J Cell Physiol. 290(3), C822-31.
Fall 2003: Erwin entered the MD/PhD program at Washington University, St. Louis.