Potential Receptors for the Binding
of Eristostatin to Melanoma Cells
Alice Wong, Carrie Paquette-Straub,
and Mary Ann McLane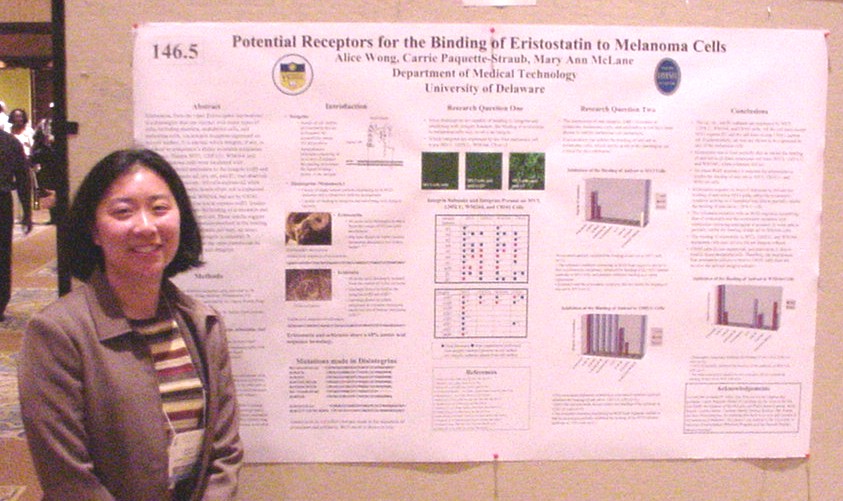 Eristostatin, from the viper Eristocophis macmahoni, is a disintegrin that can interact withnmany types of cells, including platelets, endothelial cells, and melanoma cells, via integrin receptors expressed on the cell surface. It is unclear which integrin, if any, is involved in eristostatin's ability to inhibit melanoma metastasis. Human MV3, 1205LU, WM164, and C8161 melanoma cells were incubated with fluorescent-labeled antibodies to the integrin alpha-v beta-3 and the integrin subunits alpha-2, -4, -6, and -1, and observed by confocal microscopy. All cells express alpha 2 while none express detectable levels of alpha-6. Alpha-4 is expressed by 1205LU, MV3, and WM164, but not by C8161. MV3 is the only cell line not to express alpha-v beta-3. Studies were also done to assess the binding of eristostatin and a panel of eristostatin mutations to anti-alpha 4. These results suggest that, while the critical residues involved in the binding of eristostatin to the melanoma cells vary, an intact RGD sequence in the
disintegrin is essential. It remains to be seen whether the same pattern can be determined with the other cell integrins.