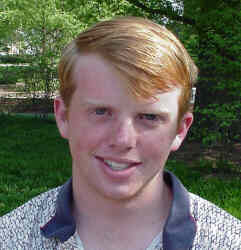 Scholar: Michael Usher
Major: Biology
Research Mentor: Eric Kmiec, Department of Biological Sciences
Project Title: Use of Chimeric DNA/RNA Hybrids in Site-Directed Repair of Mutated DNA
Abstracts: Michael Usher, Howard Gamper, Eric Kmeic. Targeting of a Chimeric Oligonucleotide to dsDNA for Site-Specific Gene Repair. ASBMB Meetings, Orlando, FL. April 2001. FASEB J 15(4), A518 (2001) Abst 435.2
Jennifer Rutan, Michael Usher, Matthew Russell, Robin Davis, Shui Quig Ye, Gregory Stephens, Robert Hodson, David Usher. Conservation of the Apolipoprotein AI-CIII Linkage Group in Reptiles. ASBMB Meetings, Orlando, FL. April 2001. FASEB J 15(4) A195 (2001) Abst 188.5
Michael Goodwin Usher, Howard Gamper, Miya Drury, Li Liu, and Eric Kmiec. The recombinational repair protein, Mre11p, plays a central role in targeted gene repair. ASBMB Meetings, New Orleans, LA. April 2002. FASEB J. 16(4), B43 (2002) Abst. 424.1.
Awards and Honors: Recipient of a Pfizer Summer Research Fellowship 2001, Phi Beta Kappa, Phi Kappa Phi.
Fall 2002: M.D./PH.D. Program in Cellular and Molecular Biology at the University of Michigan, Ann Arbor.