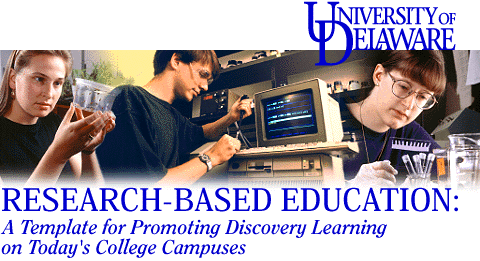 Welcome to the homepage of the University of Delaware's "Research-Based Education" project, an initiative funded by the National Science Foundation's Recognition Awards for the Integration of Research and Education (RAIRE). The University of Delaware combines its research and education missions by: (1) involving as many undergraduates as is feasible in faculty research and (2) providing a discovery-oriented environment for those students who cannot be accommodated in research projects. Visit the Web sites listed below to learn how we accomplish these goals.

Research-Based Education: Posters

National Science Foundation Awards $500,000 to the University of Delaware, Recognizing Research Opportunities for Undergraduates: press release announcing the award

Research-Based Education NSF-RAIRE Project Proposal

Research-Based Education Faculty Advisory Board

RAIRE Funded Assessment Studies

Undergraduate Research Program

Problem-Based Learning

Other Research-Based Education Links
To request further information, please contact JBennett@udel.edu.
---

Back to the University of Delaware
Copyright © University of Delaware, February 1997.
Last Updated: October 28, 2002.