Hotel opens new Brickyard Grille for outdoor dining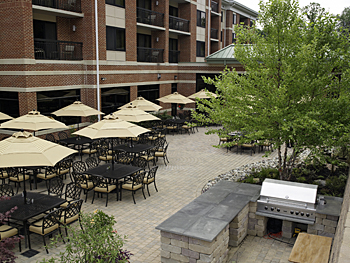 2:50 p.m., July 21, 2008--The award-winning Courtyard Newark-University of Delaware hotel has gotten even better. Just in time for summer and early autumn, the hotel has added the new Brickyard Grille, an outdoor dining facility featuring the cuisine and service of the hotel in a landscaped setting with fountains.
"The new Brickyard Grille is an excellent addition to the food and entertainment offered at our hotel," said Bill Sullivan, managing director. "In this lovely area, guests and local customers will enjoy our fine food and service along with the beautiful décor, as well as some great entertainment on featured nights."
The Grille will host a lunchtime mixer for the New Castle County Chamber of Commerce on Friday, July 25, to officially launch the facility.
On Thursday and Friday evenings, chef Mark Chopko and his staff are on hand to prepare grilled specialties, including steaks, veal chops, Black Angus burgers and pork ribs, along with a large selection of salads and desserts, plus full beverage service. Light entertainment will be offered, as well.
The Brickyard Grille also is available for private functions of all sizes.
For hours and menu features please call (302) 737-0900. For more information, visit [www.udel.edu/hotel/].
Article by Sue Moncure
Photo by Kathy Atkinson