Hitchens Classic benefits UD women's athletics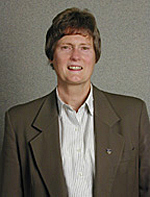 8 a.m., July 16, 2008--The third annual Mary Ann Hitchens Golf and Tennis Classic, which benefits University of Delaware women's athletics, will be held Monday, Sept. 15 at the Deerfield Golf and Tennis Club in Newark, Del.
The event is presented by Dr. Michael J. Axe of First State Orthopaedics and sponsored by Thom Shumosic of Rockwood Financial, Whiting-Turner Construction, the University of Delaware Bookstore, Marriott's Courtyard Newark-University of Delaware, Bancroft Construction, National 5 and 10 and Nason Construction. Last year's event sold out in August.
Registration will begin at 11 a.m. and the golf tournament, with a scramble format, will begin at noon. The tennis tournament will begin at 1 p.m. and a reception and silent auction will begin at 5 p.m.
Individual golf and tennis and group sponsorships as well as tickets to the reception/silent auction are available by contacting Sue Groff, UD associate director of athletics/senior woman administrator, at (302) 831-3666 or by e-mail at [groff@udel.edu].
Individual golf sponsorships, which include a playing spot, reception ticket, lunch and a gift bag are $175. Tennis sponsorships, which include a playing spot, reception ticket, lunch, gift bag and the opportunity to play with members of the UD tennis team, are $100. Group sponsorships start at $1,000. Tickets to the reception and silent auction only are $65.
Proceeds from the tournament will benefit Fightin' Blue Hens women's athletics teams. The event will be hosted by Hitchens and Groff along with current UD head coaches Tina Martin (basketball), Carol Miller (field hockey), Kim Ciarrocca (lacrosse), Laura Slice (rowing), Scott Grzenda (soccer), B.J. Ferguson (softball), John Hayman (swimming), Laura Travis (tennis) and Bonnie Kenny (volleyball).
Hitchens, who retired in 2006 after 37 years of service to intercollegiate athletics at UD as a nationally recognized field hockey and basketball coach and administrator, is a member of the UD Athletics Hall of Fame and the Delaware Sports Museum and Sports Hall of Fame.
For more information on UD athletics, see [www.udel.edu/sportsinfo].