All fans invited to Aug. 30 UD vs. Maryland tailgate, game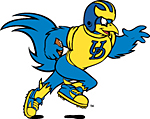 Editor's note: This story was updated at 4:42 p.m., Aug. 8.
11:43 a.m., July 25, 2008--All Fightin' Blue Hens fans--including students, alumni, faculty, staff and community members--are invited to help cheer the UD football team to victory over the Maryland Terrapins on Saturday, Aug. 30, at University of Maryland's Byrd Stadium. The game, which starts at 3:45 p.m., will be televised on ESPNU.
UD President Patrick Harker will host a pregame UD tailgate party starting at 1:15 p.m. in the Orem B Ballroom of the Samuel Riggs IV Alumni Center. The Center is conveniently located within walking distance of Byrd Stadium. YoUDee and the UD cheerleaders will make an appearance during the party to pump up fans for kick-off.
Fans have the option of attending the tailgate only at the cost of $27 per person, which includes a buffet lunch with beverages. Cost for both the tailgate and game is $65 per person. Please note that game tickets in the UD-seating block are limited. Reservations can be made beginning Monday, July 28, online at [www.UDconnection.com].
Guests wanting to purchase game tickets only must contact Season Ticket Services at (302) 831-2257 for seats outside the UD block. Tickets for non-season ticketholders will be available after Friday, Aug. 1.
For more information, call (302) 831-2341 or visit [www.UDconnection.com].