Students showcase summer service-learning projects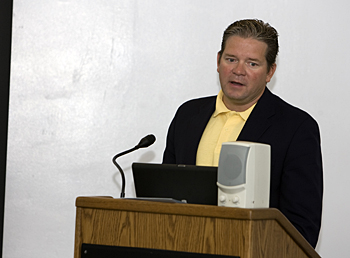 3:49 p.m., Aug. 26, 2008--During the summer, 15 UD undergraduate students employed their academic training to help communities at home and abroad through a wide variety of projects. They related these experiences during the fourth annual Service-Learning Scholars Symposium, held Aug. 15 in the Perkins Student Center.
Lynnette Overby, faculty director of Undergraduate Research, Service Learning and the McNair Scholars programs, described service-learning projects as a great opportunities to apply disciplinary knowledge in the community setting.
"It's not just about volunteerism, though that is very important," Overby said. "When we do service-learning, we really look at combining our disciplinary knowledge with problem solving that comes with experience."
Such experiences, Overby said, benefit both the students and the communities they serve. "Students gain civic awareness, and they can witness firsthand the power of service, along with another key element, knowledge. This not only allows students and faculty to institute service-learning in the summer program, but also can be integrated with other current projects."
Before introducing student presenters, Overby also acknowledged the efforts of Sue Serra, coordinator of the Office of Service-Learning, noting that, "It is really great to see how this program has grown over the past three years."
Matthew Robinson, associate professor of health, nutrition and exercise sciences, highlighted the efforts of health science majors Matthew Keefe and Jennifer Simpkins, who at the time were in Dublin, Ireland, as part of a service-learning project, "Youth Cultural Integration Through Basketball."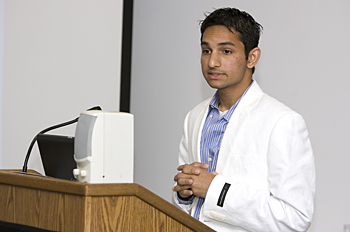 "The Irish government is looking for a number of ways to immerse immigrants in Irish culture, and they were looking at basketball as a way to get immigrant communities submersed in this culture," Robinson said. "Last year we had a grant from the Irish government that funded a program that brought two National Basketball Association players to Ireland. This year, the program is tied in with the University of Notre Dame's men's basketball team."
A key component of the program, Robinson said, is the Polish-Irish Family Day that was held Aug. 23 featuring a basketball matchup between the Fighting Irish and the Polish national basketball team.
"Our students helped develop print, radio and television ads, and they dealt with the Irish Consul, the United States Embassy and the Polish Embassy on this initiative," Robinson said. "They were able to make a contribution to help cultural integration in Ireland and also enjoyed a real life experience to go overseas and see a beautiful country like Ireland."
Kristen Beddingfield and Dannielle Miccinello, senior exercise physiology majors, described their project, "Comparing Energy Expenditure of Young Adults with Autism and Typically Developing," with faculty adviser Nancy Getchell, associate professor in the College of Health Sciences.
"We know that there are a lot of people who are overweight, and that this is even more so among people with autism," Miccinello said. "We also know that there has been a significant increase in the number of people diagnosed with autism. We wanted to know if the increase in obesity in people with autism is due to their condition or a social problem."
The project involved both researchers volunteering to participate in physical education classes where all students, both with and without autism, participated, and included measuring energy expenditure during 16-minute periods of walking and jogging.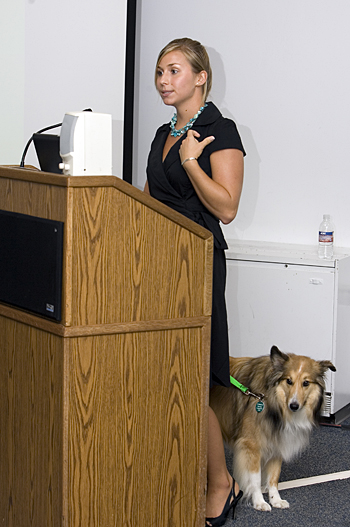 "Energy expenditure in people with autism is something that needs to be looked at. We set up our goals for what we wanted to accomplish each week and reported weekly to Dr. Getchell," Beddingfield said. "Part of our success in this project was due to our interactions with the students we were working with. We are hoping to get our findings published."
Other service-learning presentations included:
"The Impact of Specific Teaching Behaviors on Student Engagement in a Summer Physical Activity Program," by senior exercise physiology majors Jim Casertano and Corey Hopkins;
"Increasing Physical Activity in Pre-Schoolers," by Hardikkumar Patel, a junior health sciences major;
"Early Power Mobility," by Mariem Abdou, senior biological sciences major;
"The Power of Pet Therapy," with Erin Fegley, senior elementary teacher education major;
"Aspiring AVID Teacher Program," by Deborah Strnad, senior in the School of Education;
"Behind the Beat: Bringing Hip-Hop to the Classroom," by Shanyah Wright, junior psychology major;
"Developing Extended Musical Experiences at the Leach School," by Ashley Manion, senior music education major;
"Project MUSIC," by Kathryn Makos, senior music education major;
"Aligning Internal Practices with Compliance," with Rita Chang, Dean's Scholar in Social Responsibility in the Textile and Apparel Industry;
"Super Kids: Making a Difference One Community at a Time," with Jaclyn Abrams, senior elementary teacher education;
"HIV/AIDS in the Latin American Community," with Joseph Randall, senior sociology major;
"Voices Without Borders," by Laurel Adams, junior Latin American Studies/International Relations major; and
"Urban Plunge," by Rachel Friedline, senior human services major.
For more information about service-learning opportunities at UD, visit [www.servicelearning.udel.edu].
Article by Jerry Rhodes
Photos by Kathy Atkinson