Soledad O'Brien to keynote Latino Heritage event Sept. 18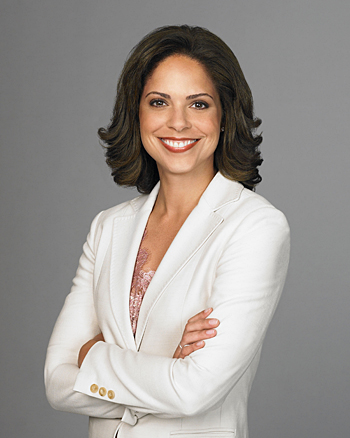 1:01 p.m., Aug. 28, 2008--Soledad O'Brien, anchor and special correspondent for CNN: Special Investigations Unit, will deliver the keynote speech, "Diversity: On TV, Behind the Scenes and in Our Lives," during the opening ceremony for the University of Delaware's ninth annual Latino Heritage Month, at 7 p.m., Thursday, Sept. 18, in the Clayton Hall Conference Center auditorium.
Born to a black Cuban mother and Irish-Australian father, Maria de la Soledad Teresa O'Brien reports hour-long documentaries throughout the year and files in-depth series on the most important ongoing and breaking news stories for all major CNN programs. She also covers political news as part of CNN's "Best Political Team on Television."
Most recently, O'Brien has reported for CNN Presents: Black in America, a sweeping CNN on-air and digital initiative breaking new ground in revealing the current state of black America 40 years after the assassination of Dr. Martin Luther King Jr. The landmark programming features six hours of documentaries and weekly reports with a focus on fresh analysis from new voices about the real lives behind the stereotypes, statistics and identity politics that frequently frame the national dialogue about black America.
O'Brien joined CNN in July 2003 as the co-anchor of the network's flagship morning program, American Morning, and distinguished herself by reporting from the scene on the transformational stories that broke on her watch. Her efforts following Hurricane Katrina and the tsunami in Phuket, Thailand, have earned her many awards and critical acclaim.
Before she joined CNN, O'Brien worked at NBC News, where she had anchored the network's Weekend Today since July 1999. During that time, she contributed reports for the weekday Today Show and weekend editions of NBC Nightly News and covered such notable stories as John F. Kennedy Jr.'s plane crash and school shootings in Colorado and Oregon. In 2003, she covered the Space Shuttle Columbia disaster and later anchored NBC's weekend coverage of the war in Iraq. Additionally, in 1998, she traveled to Cuba to cover the historic visit by Pope John Paul II.
O'Brien earned a bachelor's degree in English and American literature from Harvard University. She is a member of the National Association of Black Journalists and the National Association of Hispanic Journalists.
Tickets will be available to the UD community only beginning Thursday, Sept. 4. Each person presenting a valid UD ID will receive two tickets.
Beginning Monday, Sept. 15, tickets will go on sale to the general public at UD box offices for $7 each.
Event sponsors include the Center for Black Culture/Multicultural Programs, Office of the Vice President for Student Life, Office of Human Resources, Student Centers, Residence Life, Office of Women's Affairs, Latin American Studies, Black American Studies, Affirmative Action, Campus Alliance de La Raza, HOLA and Chi Upsilon Sigma.
Article by Martin A Mbugua