UD called 'epicenter' of 2008 presidential race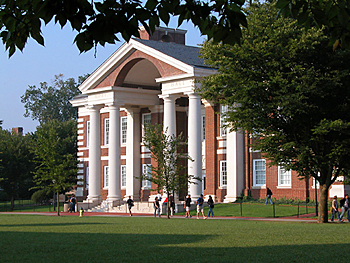 10:06 a.m., Aug. 28, 2008--The University of Delaware has been called the "epicenter" of the 2008 presidential race in a Bloomberg News story published Tuesday, Aug. 26.
Bloomberg reporter Nicholas Johnston noted that UD has produced not just Democratic vice presidential candidate Joseph R. Biden Jr., a 1965 graduate with a double major in history and political science, but also the campaign managers for both Republican presidential candidate John McCain and Democratic presidential candidate Barack Obama.
The McCain campaign is being led by Steve Schmidt, who attended the University from 1988 to 1993 as a political science major, and the Obama campaign is being guided by David Plouffe, who attended UD from fall 1985 through fall 1988, also as a political science major.
Schmidt was just three credits short of a degree when he left the University, and Plouffe was about a semester short when he set out on a career in politics.
Johnston writes that, "The academic epicenter of this year's presidential election isn't, as in some years past, Harvard or Yale. It's located between Baltimore and Philadelphia at the University of Delaware."
He quoted Joseph Pika, professor of political science and international relations, for the story. "We're just a political factory here," Pika said, adding, "There's more going on in Delaware than people think."
Pika said the election is unusual in that both campaign managers and a vice presidential candidate are from the same school. Also, Biden is married to Jill Jacobs-Biden, also a UD graduate, earning a bachelor's degree in 1975 and her Ed.D. in 2006.