First UD McNair Ph.D. delivers keynote address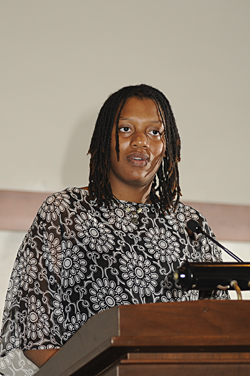 2:45 p.m., Aug. 21, 2008--The University of Delaware's Ronald E. McNair Scholars Program has become synonymous with helping its students achieve success in pursuing and completing a graduate school education.
On Aug. 14, Tyesha Dwight-Higgin, the first McNair program participant to complete doctoral studies at UD, gave the keynote address to more than 150 students, parents, program faculty mentors and guests during the ninth annual McNair and University Scholars Achievement and Celebration Dinner, held in Clayton Hall.
The Ronald E. McNair Scholars Program honors the African-American astronaut who died in the explosion of the Challenger space shuttle in 1986. Modeled on the McNair Program, the UD Undergraduate Scholars Program helps students from diverse and disadvantaged backgrounds to get into graduate programs of their choice and obtain funding.
Born in East Orange, N.J., and the first member of her family to complete baccalaureate and doctoral degrees, Dwight-Higgin recalled what it was like to embark on an academic career in a new town and a new state as she began her studies at UD.
"I remember wandering on Main Street and wondering what I had gotten myself into," Dwight-Higgin said. "I had left the community I knew in Newark, N.J., for Newark, Del., I felt out of place."
A biological sciences major who graduated from UD in 2005, Dwight-Higgin participated in both the NUCLEUS program and the Student Support Services Program. She also received a scholarship to participate in a UD Study Abroad program in South Africa, and was a John Henry Taylor Scholar and a Science and Engineer Scholar.
An important part of her undergraduate experience, Dwight-Higgin said, was working with John Scholz, professor of physical therapy in the UD's Motor Control Laboratory, and Dr. Bull Anthony, in the biomechanics lab of Imperial College in London.
"[Scholz] was hesitant to allow a freshman, with no experience, to work in his lab. However, he accepted me," Dwight-Higgin said. "I not only learned concrete research skills, but I also gained a good feeling for the academic side of health care. This research experience helped me appreciate the nature of research and the doors it opened for me."
A lifelong desire to travel led Dwight-Higgin to the Imperial College in London. "I have always wanted to travel, and my goal was to do everything possible that I could to be able to take part in that experience," Dwight-Higgin said. "The research in London was a challenge because it was filled with terminology and technology and equipment that I had to learn within a two-month period."
Working in London strengthened her commitment to work with patients on an international level, which led to completion of her doctoral degree in UD's physical therapy program, something she described as "my dream come true."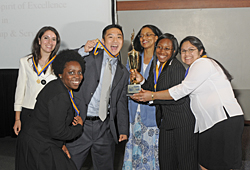 "Our dreams, our visions, our circumstances are determined by what we think, and our actions that follow," Dwight-Higgin said. "Work hard, and remember to thank very often those who guided you. You will find that they will be very instrumental in the most unlikely hour. I am a living testament to what you can achieve if you put your mind to it."
The McNair celebration dinner also was an opportunity to showcase the 17 program graduates for 2008, and the graduate schools they will be attending, including the University of Delaware.
Maria Palacas, program director in the Office of Undergraduate Research and Service Learning, said the McNair scholars exemplify the spirit of Ronald E. McNair, whom she described as a "man who championed excellence in ever area of life, from the spiritual to the academic to the physical. At McNair, we try to emulate and encourage that same spirit of excellence."
Palacas said that this year's class of 28 McNair and University Undergraduate scholars was chosen from among about 180 applicants. Program participants are involved in a wide range of activities, including workshops, community service projects such as rebuilding a home in New Orleans, and fun events like whitewater rafting and trips to New York City and Jamestown, Va.
"We strive to develop a circle of trust to grow far beyond this room and to encircle the world," Palacas said. "Service is a major component of the McNair program. Separately and together, McNair scholars are truth seekers and world changers."
NcNair Program Awards
Each year, participating faculty mentors in the McNair program are nominated by students for the mentor of the year award. Beginning this year, the award is named for the late Juan A. Villamarin, professor emeritus of anthropology, who was an enthusiastic supporter of the McNair and University Undergraduate Scholars Programs. The first Juan A. Villamarin Mentor of the Year Award was presented to Ulhas Naik, professor of biological sciences.
Awards to McNair program students included:
• Leadership Award: Arline Wilson;
• Collegiality Award: Jooyoung Lee;
• Spirit of McNair Award: Oscar Romero;
• McNair Scholar of Promise Award: Seyar Baqi;
• Team Award: Maria Ayllon, Janoah Wynn, Yianna Antonopoulos, Timothy Kim and Lorraine Makone.
• Poster Presenters: Christina Antonopoulos, first place; Sharon Pozzo, second place; Obinna Mmagu, third place; and
• Oral Presenters: Arline Wilson, first place; Evanna Singh, second place, Matthew Stieglitz, third place.
Article by Jerry Rhodes
Photos by Duane Perry