Baltimore-area Hens invited to meet Ravens QB Joe Flacco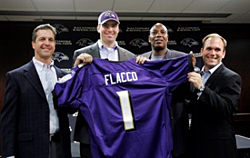 3:46 p.m., Aug. 29, 2008--Baltimore-area Blue Hens are invited to meet and greet Baltimore Ravens quarterback Joe Flacco for "Monday Night Chalk Talk." Open to the public, the free event begins at 7 p.m., Monday, Sept. 15, at Mother's Federal Hill Grille, 1113 South Charles St.
Flacco, who became the highest National Football League draft pick in UD history when he was selected in the first round by Baltimore, was a two-year starter who set 20 school records while leading the Blue Hens to the 2007 NCAA Division I Football Championship Subdivision national title game.
After "Chalk Talk," Flacco will join UD alums and friends and watch Monday Night Football (Philadelphia Eagles vs. Dallas Cowboys), and alums and friends are encouraged to come early and stay late.
For planning purposes only, please register at [https://www.alumniconnections.com/olc/pub/UDA/events/UDA2210134.html].
Click here for more information, or e-mail Amanda Taylor, Baltimore Alumni Club Coordinator, at [Baltimore@UDconnection.com].