Elena DelleDonne joins UD volleyball team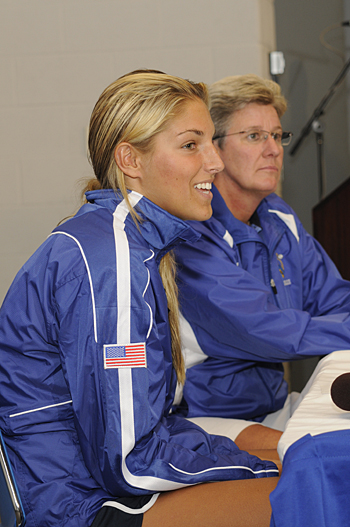 Click here to see a podcast of the press conference.
8:13 a.m., Aug. 26, 2008--Elena DelleDonne, one of the most prolific high school student-athletes in state history and the all-time leading scorer in girls basketball during her career at Ursuline Academy in Wilmington, has joined the University of Delaware volleyball program and is eligible to compete for the Blue Hens in that sport this coming season.
The announcement was made in a press conference on Monday, Aug. 25, at the Bob Carpenter Center.
DelleDonne, a high school All-American, had originally signed to play basketball at the University of Connecticut and attended UConn for several days in June before deciding to return home for personal reasons. She made the decision in early August to apply to the University of Delaware and was accepted as a full-time student on Aug. 18. She will major in early childhood education at UD. The fall semester begins Sept. 3.
"I would like to thank Coach Geno Auriemma and the entire UConn family," said DelleDonne. "As I have said before, they deserve a 100 percent commitment and I was unable to give that to them in the sport of basketball. I have been open and honest with Coach Auriemma for the past several months and there is nothing he was unaware of about my final decision. I wish them nothing but success. He and his program are a first-class operation. If I was going to play basketball, it would be at UConn. It would be ridiculous for me to say I'll never play again. I am 18 years old, so never would be an eternity. Basketball is just not part of my life right now. I am at ease with my decision to attend the University of Delaware and I am looking forward to starting classes and following my mom's path since she is a Blue Hen alum. I would also like to thank the Delaware volleyball program. They have been so supportive and over the last few days. It is comforting to know that I have been welcomed into an extended family in such a short amount of time."
DelleDonne has been practicing with the UD volleyball team since Thursday, Aug. 21, in preparation for the team's opener Aug. 29 at the University of California Fullerton Tournament. Since she joined the team after Aug. 1, she will attend UD as a non-scholarship member of the team.
Connecticut released DelleDonne from her scholarship earlier this month, allowing her to play any sport at Delaware. NCAA rules prohibit her from playing basketball due to transfer regulations. She has not decided whether she will play basketball at Delaware.
"I would like to thank the University of Connecticut and coach Geno Auriemma for granting Elena a release," said Delaware Head Coach Bonnie Kenny, who enters her seventh season with the UD volleyball program this fall. "No one in this room other than Elena and her family can understand the magnitude of emotions and feelings that have occurred over the past few months. The University of Delaware and its volleyball program are the beneficiaries of her decision. I applaud Elena for being mature and brave enough to come to the conclusion that this is where she wants to be and this is what she wants to do. If I had any inclination that Elena was going to play volleyball in college I would have been recruiting her from day one. When I first talked to her mom and dad and asked what do you want from us as a staff. They said 'nothing we just want her to be happy.' We are aware that we have an elite student-athlete in our gym and we are honored and humbled she has joined us. From day one she has embraced us, and we have embraced her. She has done everything we have asked with a smile on her face except when we do triangle. My hope is that the entire state of Delaware will jump on the train and support such a gifted student-athlete and the volleyball team she is on."
DelleDonne enjoyed one of the finest careers of any athlete in Delaware high school history, starring for the Ursuline varsity squad since the eighth grade and leading the volleyball team to the state title last fall playing along with current UD teammate Megan Bonk. DelleDonne led Ursuline to four state basketball titles and set the all-time state high school girls scoring record with 2,818 points. A five-time All-State basketball player, she was named the 2007-08 National Player of the Year by the Naismith, McDonald's, and Gatorade foundations. She was also a National Honor Society student.
"We certainly respect Elena's decision and wish her well here at the University of Delaware," said Delaware women's basketball Head Coach Tina Martin. "The door to our basketball program will always be open to her."
At Delaware, DelleDonne will battle for playing time at the middle hitter position in volleyball and joins a team that is the favorite to win its second straight Colonial Athletic Association title this fall. The Blue Hens enjoyed one of their finest seasons in school history last season when Kenny led her squad to a 31-5 record, the CAA regular season and tournament titles, and the school's first-ever NCAA Division I championship tournament berth. Delaware defeated Princeton in the first round before falling to host St. John's in the second round of the tournament.
According the University of Delaware Office of Admissions, this year the University received 2,073 applications for transfer admission and will enroll approximately 450 transfer students when classes start on Sept. 3.
DelleDonne is the daughter of Ernie and Joanie DelleDonne of Wilmington, Del. Ernie is a 1979 graduate of Columbia University and Joanie is a 1980 graduate of the University of Delaware with a degree in special education. She has an older sister, Elizabeth, and an older brother, Gene, who plays tight end for the Middle Tennessee State University football team.
For more information on UD athletics, see [www.udel.edu/sportsinfo].

Photo by Duane Perry