New Student Convocation to kick off fall semester Tuesday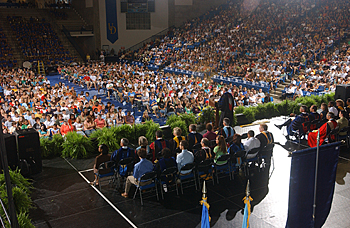 4:28 p.m., Aug. 28, 2008--New Student Convocation, the opening event of the new academic year, will be held at 10:30 a.m., Tuesday, Sept. 2, at the Bob Carpenter Sports/Convocation Center.
Welcoming the Class of 2012, the ceremony is a required event for all new students, and it is the last time the entire class will come together as a group until graduation.
Speakers at the New Student Convocation include UD President Patrick T. Harker, Michael Gilbert, vice president for student life, and Teagan Gregory, president of the StUDent Government Association.
Members of the University community are encouraged to attend. Faculty and staff do not need to wear academic regalia and should sit with the students from their departments.
After the ceremony, lunch will be served for all guests in the Bob Carpenter Center concourse. No lunch will be available to new students in the dining halls that day.
Bus transportation to the Bob Carpenter Center from the Academic Orientation classes will be provided from 9:30-10:15 a.m. from pick-up locations at the Smith Hall overpass (northbound and southbound), Alfred Lerner Hall, the Perkins Student Center, the Trabant University Center (garage driveway) and Townsend Hall (front).
After Convocation, bus transportation back to central campus will be provided to the Smith Hall overpass until 1:30 p.m.