New Enrollment Services Building open for business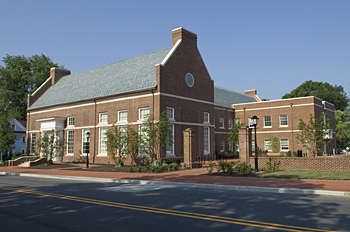 1:11 p.m., Aug. 29, 2008--Last year enrollment services at UD processed applications from more than 25,000 individuals seeking to become members of the Class of 2012.
Now, the people who process applications for admission have a new home in the Enrollment Services Building located at the site of the former Visitor's Center at South College Avenue and Winslow Road.
The 24,000-square-foot building also is home to the office of financial aid and the registrar's office.
Last year UD Admissions hosted about 60,000 guests, including 20,000 prospective students who participated in various campus visitation programs, Jeffrey Rivell, deputy director in the Admissions Office, said.
"Most visitors take advantage of our daily information sessions and tours," Rivell said. "During July we hosted over 4,000 guests (1,400 families) through our daily information sessions, typically serving between 35 and 125 families per day."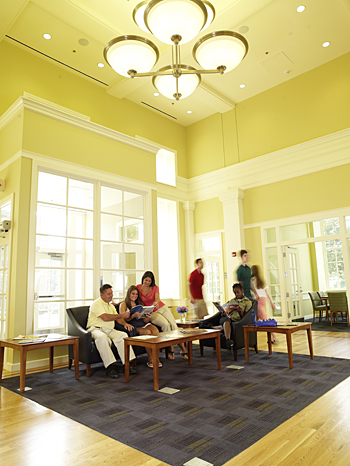 The Enrollment Services Building, which cost $12 million, includes two separate areas. The one-and-a-half story public area at the front of the building includes a main lobby, presentation room and interview rooms and serves as the new Admissions Visitors Center. Prospective students can enter the lobby, move to the presentation room, where admissions staff will greet them and familiarize them with the University and the application process, and then can exit for campus tours conducted by specially trained students called Blue Hen Ambassadors. The remainder of the building houses the offices and functions of the three divisions.
"Each tour begins with a 40-minute information session and a question-and-answer period conducted by an admissions officer," Rivell said. "The information session is immediately followed by a one-and-a-half hour walking tour of the campus, led by our Blue Hen Ambassadors."
Walking tours of UD's central campus generally include a stop in a classroom building, as well as visits to the student centers, Morris Library and a residence hall and room, Rivell said.
Having the offices of admissions, registrar and scholarship and financial aid in the same building helps strengthen the commitment that UD has made to serving students, Rivell said.
"With the configuration of public areas, staff offices and processing areas, we are in a stronger position to collaborate and provide better service to prospective students and families going through the entire college selection process," Rivell said.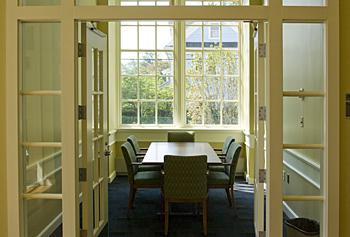 Architects for the Enrollment Services Building were Ayers Saint Gross, of Baltimore, who designed the Louise and David P. Roselle Center for the Arts and the new Laird Campus residence halls. Whiting-Turner Contracting Co. managed the construction. Larry McGuire, a senior project manager in Facilities-Planning and Construction at UD, supervised the project.
Article by Jerry Rhodes
Photos by Kathy Atkinson and J Stewart, AS '09