Blue Hen wins bronze in Olympic baseball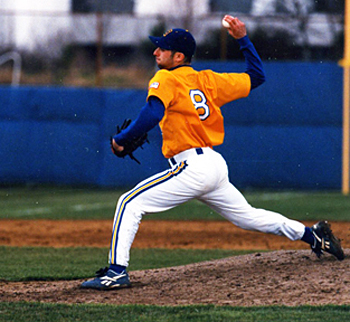 9:27 a.m., Aug. 25, 2008--
Former University of Delaware standout Mike Koplove helped lead the USA Baseball team to a bronze medal at Wukesong Stadium on Saturday during the XXIX Olympiad in Beijing, China.
The U.S. defeated Japan 8-4 to claim the bronze medal. Although Koplove did not appear in the consolation game, he played a significant role in helping the team capture a third-place finish.
During the squad's nine games in China, Koplove appeared in four contests on the mound. In 5.1 innings of work, the side-wheeling right-hander did not allow a hit or a run while shutting down the opposition.
Koplove led the team with a 0.00 batting-average-against and finished tied for the lead with four appearances and a pristine 0.00 earned run average. He also struck out six and allowed only one walk during his stint with the team.
In his first Olympic appearance, Koplove threw 1.2 innings of perfect ball in an 8-7 loss to South Korea, which eventually went on to claim the gold medal. Later, he struck out the side in his one-inning of work during a 9-1 victory over host China and returned the next day to fire 1.2 innings of perfect ball against Chinese Taipei.
His last appearance proved to be one of the few bright spots for the American team during a 10-2 loss to the powerful Cuban squad in the semifinals. Although he allowed his first base runner during the contest, he worked one scoreless inning against Cuba, which eventually captured the silver medal.
Prior to his professional and international career, Koplove starred for the legendary 1998 Blue Hen baseball team that went 43-10, captured the America East Conference championship, and advanced to the NCAA Atlantic II Regional.
During his stay in Newark, he went 5-1 with a 4.60 ERA. Koplove made nine appearances on the mound, including eight starts, while striking out 42 in 43 innings of work. At the plate, he also laid down 10 sacrifice bunts, which still stands as the all-time single-season program record.
Following the 1998 season, he was selected by the Arizona Diamondbacks in the 29th round of the June draft.
Since joining the professional ranks, Koplove has spent parts of seven seasons in the Major Leagues, including six with the Diamondbacks. During that span, he has gone 15-7 with a 3.82 ERA and two saves.
A veteran of 10 minor league seasons as well, he is currently a member of the Las Vegas 51s of the Los Angeles Dodgers' organization.
With the conclusion of the Beijing Games, baseball ends its run as an Olympic sport. Since it was first recognized as a medal sport in 1992, the United States has captured three medals. The squad won the gold at the Sydney Games in 2000 and won bronze in Atlanta in 1996.
For more information on UD athletics, see [www.udel.edu/sportsinfo].