UD men's basketball sets non-conference schedule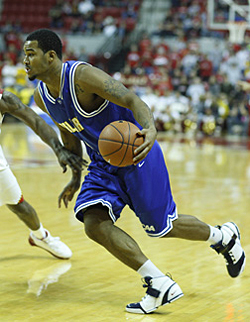 8:31 a.m., Aug. 11, 2008--A season-opening home game against Big East Conference opponent Rutgers University will highlight the University of Delaware men's basketball 2008-09 non-conference schedule.
The Fightin' Blue Hens will play 13 non-conference games in addition to the 18-game Colonial Athletic Association schedule, which will be released at a later date. Delaware will play six of those non-conference games at the Bob Carpenter Center, including the season-opener against the Scarlet Knights on Sunday, Nov. 16. No game times have been set.
Rutgers has not visited Newark since falling to the Blue Hens 77-69 in 1992 in the first men's basketball game played at the Bob Carpenter Center.
After the home opener, which is a part of the Garden State Tipoff Classic, Delaware will travel to Robert Morris on Nov. 18. The Blue Hens will then play two games at Rutgers in the Garden State Tipoff Classic, facing St. Bonaventure on Nov. 21 and Marist on Nov. 23.
Following a home game against Vermont on Nov. 25, the Blue Hens will face their second Big East opponent of the season on Nov. 29 when they travel to take on Seton Hall.
Delaware will return home to host Central Connecticut on Dec. 3, and after a road game at Hampton on Dec. 10, hosts Ohio University on Dec. 13. Following a trip to Boston University on Dec. 21, the Blue Hens return home to host Marist on Dec. 23. The Blue Hens conclude the 2008 calendar year with a home game against Toledo on Dec. 30. The teams met in an ESPNU BracketBusters contest last season in Toledo.
The Blue Hens' final non-conference game will be a road contest in the ESPNU BracketBusters on Saturday, Feb. 21, against an opponent to be determined.
Delaware, which will be led by third-year Head Coach Monté Ross, returns four starters from the 2007-08 team that finished 14-17 overall and tied for sixth place in the CAA with a 9-9 conference record. Senior Marc Egerson was named to the All-CAA third team after leading the Blue Hens with 6.9 rebounds per game and ranking second with 13.4 points per contest. Sophomore Alphonso Dawson, who was selected to the CAA All-Rookie Team after averaging 11.0 points per game, and junior point guard Brian Johnson, who ranked among the league leaders in assists per game and assist/turnover ratio, also return to lead a talented UD backcourt.
For more information on UD athletics, see [www.udel.edu/sportsinfo].