Three Blue Hens named football All-Americans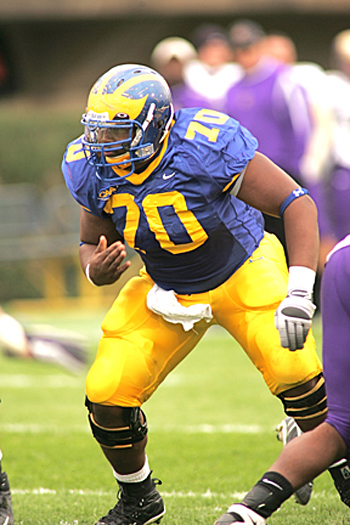 3:49 p.m., Aug. 25, 2008--University of Delaware senior center Kheon Hendricks, junior kicker Jon Striefsky and junior defensive end Matt Marcorelle, have been named to The Sports Network pre-season All-America team.
The three were among 13 Colonial Athletic Association players named to the All-America teams. Hendricks was a first team selection while Striefsky and Marcorelle were each named to the second team.
Delaware, ranked No. 9 in the pre-season Sports Network top 25 poll, will open the 2008 season Saturday, Aug. 30, when the Blue Hens travel to the University of Maryland for a 3:45 p.m. game to be televised live on ESPNU. Maryland earned votes in the Associated Press pre-season top 25 rankings.
Each of the three Delaware standouts earned All-American notice last season and have been listed in many pre-season publications as the top players at their positions this summer.
Hendricks was a first team All-CAA and honorable mention All-American in 2007 at center, his first year as starter at that position. He started all 15 games and anchored an offensive line that helped Delaware lead the CAA in scoring offense, total offenses, and passing offense.
Striefsky earned first team All-CAA and first team All-American laurels a year ago when he converted 21 of 24 field goals and 64 of 67 extra points. He established school records for field goals, extra points, and kicking points in a season and tied for the NCAA lead in kick scoring with 127 points.
Marcorelle was a third team All-CAA and honorable mention All-American selection in 2007 when he posted 64 tackles and led the team with eight sacks, 14 tackles for loss, and a school record five forced fumbles.
For more information on UD athletics, see [www.udel.edu/sportsinfo].