Delawareans willing to pay a premium for wind energy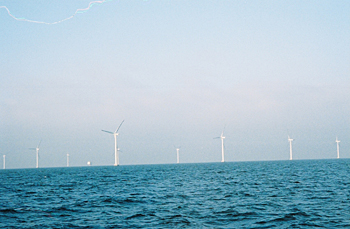 10:56 a.m., Sept. 21, 2007--Delaware residents not only are supportive of offshore wind power, according to new analysis of a
survey conducted by University of Delaware researchers
, but they're willing to pay to have it instead of coal or natural gas power.
"After analyzing the survey data and completing statistical analyses, we concluded that residents statewide would be willing to pay between $500 million and $550 million to have offshore wind as a source of power over coal or natural gas," said Jeremy Firestone, one of the survey's authors.
The results are described in a forthcoming report by Firestone and Willett Kempton, both marine policy scientists and faculty members in UD's College of Marine and Earth Studies, and doctoral student Andrew Krueger, who detailed the findings in his dissertation.
The team's analysis comes at a pivotal time for wind energy in the state. In accordance with a mandate from the Delaware state legislature, Delmarva Power & Light solicited energy bids in 2006 that included preferences for price-stable and nonpolluting sources of electricity. Bluewater Wind LLC, with an offshore wind power proposal, won the bid over coal and natural gas proposals, and is currently involved in power purchasing negotiations with Delmarva Power to supply energy. Nine Delaware municipalities in a separate agreement also have signed on to purchase power from the offshore wind power project.
Last week, Bluewater Wind and Delmarva Power took an interim step and filed their terms for the project, which indicated that wind energy likely will cost ratepayers 10.59 cents per kilowatt-hour. To put that number in context, Firestone said, that rate is less than the current amount Delmarva bills its customers for the electricity supply.
Based on figures provided by the companies and the state, Firestone and Kempton preliminarily estimate that, at most, the Bluewater bid would cost Delmarva ratepayers on average $5.04 per month more than conventional power over the 25-year contract term.
If one were to spread the $500-550 million premium found in the study over all Delaware households over 25 years, the average monthly household premium would be $4.82 to $5.26 per month, Firestone said.
"People (in the survey) were very supportive of wind even when we asked about price premiums much greater than the per-month premium they actually will have to pay," he said. "Approximately 80 percent of Delaware residents would rather pay at least $30 per month for three years to locate a wind farm off the Delaware coast than to build another coal or natural gas plant."
The public's willingness to pay $500 million extra, as found by the survey, is actually sound economic policy, Kempton added.
"By our estimates, health benefits from this much improvement in air quality include approximately eight fewer deaths per year from power-plant pollution-related causes, 3,500 fewer asthma attacks, and 10,000 fewer person-days of restricted activities," he said. "Over 25 years, the financial value of these health benefits is over $1 billion."
Building on previous findings
The latest findings support initial results the team released in January based on the same survey, which they mailed to 2,000 randomly selected Delaware residents in September 2006. They received a total of 949 completed surveys from among the 1,839 valid mailings for a response rate of about 52 percent.
The initial results showed that, when given the choice of paying a variety of three-year monthly fees for offshore wind farms instead of expanding current sources of energy--coal or natural gas--91 percent chose wind power and 9 percent chose coal or natural gas. When offered at no cost, 95 percent of respondents chose wind power.
The group's research was supported by a Green Energy Fund grant from the Delaware Energy Office in the Department of Natural Resources and Environmental Control and by the University of Delaware.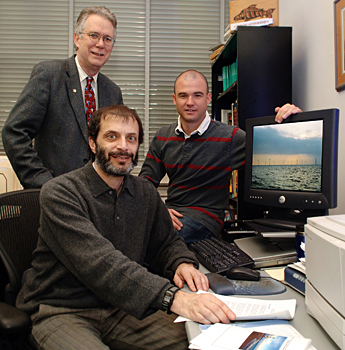 Survey results also indicate that Delawareans support offshore wind power development--erecting turbines as tall as 400 feet off the coast to create energy--primarily because of concerns about electricity rates and air quality.
"When you consider that Delmarva Power customers recently experienced a price shock when rates rose 59 percent in 2006, it makes sense that one of the biggest reasons given for supporting wind power is electricity cost if residents thought wind power would lead to more stable rates in the long run," Krueger said.
Winds of change
But one finding from the new analysis, the scientists said, challenges conventional wisdom. Members of the wind industry and policymakers traditionally thought that wind farms must be "out of sight, out of mind" in order to garner public support, but the Delaware public opinion survey findings suggest otherwise.
During their analysis, the researchers considered survey respondents living in three Delaware areas--inland, along the Delaware Bay and near the ocean--and examined their willingness to pay to move a wind farm further offshore. Not surprisingly, residents living closest to the ocean were willing to pay more than the other groups to move turbines further offshore.
However, the results showed that for all three populations, the majority of societal benefits (presumably, making turbines less visible from the shore) were gained by moving a wind farm out seven to 10 miles. At distances greater than this, societal benefits diminish relative to residents' willingness to pay for a wind project.
"Where you put the wind farm, people don't care that much once you get it out seven miles," Firestone said, explaining that although there is a preference to move turbines further offshore, Delaware residents are still highly supportive of wind power development when projects are located within the view.
"Overall, even individuals living right by the ocean, as soon as you put it more than a mile away, they'd prefer looking at those wind turbines over building another coal or natural gas plant," he said.
To guide their answers on this topic, respondents were given images of wind farms shown at various distances from the coast during the survey. For a wind farm that's about six miles offshore, the haze of a summer day often hides the turbines from view. On a clear winter day, the turbines might look like toothpicks on the horizon, about one-half inch in size.
According to the terms negotiated by Bluewater Wind and Delmarva Power and filed with the State last week, Bluewater will construct a 150-turbine, 450-megawatt Delaware offshore wind park about 11.5 miles offshore from Cape Henlopen and 12.5 miles from Rehoboth Beach.
Kempton and Firestone are part of a research group at the UD College of Marine and Earth Studies that is exploring the science, resource and policy implications of offshore wind power. Currently, the scientists and their graduate students are analyzing results of a survey they administered this summer on out-of-state visitors to Delaware's beaches that explored how an offshore wind farm would affect tourism. That project is funded by the Delaware Sea Grant College Program--a partnership of the National Oceanic and Atmospheric Administration (NOAA), the state of Delaware and the University that conducts marine research, education and outreach projects throughout the state.
Krueger's dissertation on the Delaware public opinion survey results is available at the UD Offshore Wind Power Group's web site [www.ocean.udel.edu/windpower].
Article by Elizabeth Boyle