Prof honored for steel bridge design expertise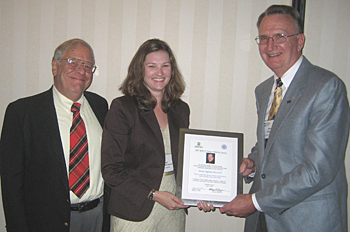 1:38 p.m., Sept. 7, 2007--The American Iron and Steel Institute's (AISI) Steel Bridge Task Force selected Jennifer Righman McConnell, UD assistant professor of civil and environmental engineering, to give the 2007 Robert K. Dexter Memorial Lecture at its convention in Nashville, in August. The lecture honors the late Prof. Dexter, who was an internationally recognized expert on steel fracture and fatigue problems.
According to task force chairperson Alex Wilson, "Robert Dexter was committed to finding practical solutions to complicated steel bridge design problems. Jennifer McConnell is also committed to that mission. Though early in her career, she has already made a mark on steel bridge design through her research."
AISI's vice president of construction, Delbert Boring, said, "This program not only acknowledges young bridge design talent, but also provides a platform for them to build on their research and develop long-term bridge design solutions that can be transferred to the marketplace."
McConnell's presentation was on "Rotation Compatibility Approach to Moment Redistribution for Design and Rating of Steel I-Girder Bridges."
McConnell's research focuses on the ultimate strength of steel structures, and more recently on blast resistance of bridges and other structures, working with the UD's Center for Composite Materials to develop panels that will absorb forces during blasting. Her research has received grants from the U.S. Department of Defense, the Delaware Department of Transportation and the University of Delaware Research Foundation.
Joining the UD faculty in 2005, McConnell received her bachelor's, master's and doctoral degrees from West Virginia University.