Hotel again wins honors for customer service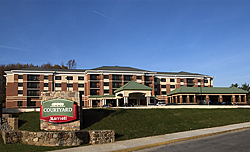 4:55 p.m., Oct. 2, 2007--People just love staying at the University's Marriott hotel if the results of guest customer surveys are any indication.
The Courtyard Newark-University of Delaware hotel has again been chosen one of the most customer friendly Courtyard hotels out of the 684 Marriott affiliates worldwide. The hotel received a customer satisfaction rating of 90 percent for January-June.
Bill Sullivan, hotel managing director, congratulated his staff on coming in first once again. "Team, congratulations on earning the Marriott Platinum Award for guest satisfaction survey scores for the first six months of 2007. Our hotel has continued to be a leader in maintaining the highest levels of guest service in the Marriott chain, and each of you and your teammates should be proud of this significant record. Let's all congratulate each other and strive for continued success!"
Since the Courtyard opened in the fall of 2004, it has consistently proven a favorite of hotel guests who filled out the Marriott's customer satisfaction surveys.
It won Marriott's Gold Award for customer satisfaction in its first year, was named best in customer satisfaction for 2005 and won Marriott Platinum Awards in 2006 and 2007.
Marriott sends out guest surveys to 40-50 percent of its guests after they leave. The Courtyard-Newark generally ranks in the top 5 percent of the properties surveyed for customer service.
For more information, visit [www.udel.edu/hotel].