Hotel partners with Delaware School for the Deaf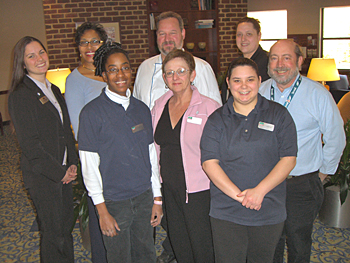 11:36 a.m., Oct. 10, 2007--Since August, the Courtyard Newark-University of Delaware has been partnering with the Delaware School for the Deaf to provide part-time jobs and on-the-job training to several of their students. Hotel staff and mentors from the school help mentor and support the students, and the program, according to Tracy Holmes, director of operations, has proven beneficial from both ends.
"The students and teachers have brought a great sense of pride and positive work ethic to our team," she said. "Working with the Delaware School for the Deaf has enhanced our team's diversity and has become a great learning experience for not only the students but my team as well--a definite win-win situation for us all."
Two trainees, Amber Narmore and Kisma King, have taken to the work so enthusiastically, in fact, they've won the recognition of Clarinda Jones, executive housekeeper.
"Amber and Kisma have become true assets to our team, and the day-to-day operations of the hotel," she said. "They teach us what it means to be dedicated to learning new things."
The partnership is so successful that the hotel plans to continue the relationship, and many staff have expressed an interest in learning sign language.
Photo courtesy of William Sullivan