UD computer security campaigns win awards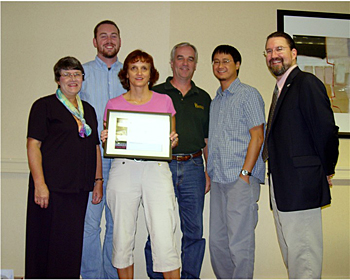 3:54 p.m., Oct. 23, 2007--Staff members from UD's IT-User Services, Office of Public Relations and the IT-Help Center, have received national recognition for their efforts in promoting computer security at UD.
"National Cybersecurity Awareness Month at the University of Delaware" received the Award of Excellence in the General Service Campaign category at the 35th annual Association for Computing Machinery Special Interest Group on University and College Computing Services (ACM-SIGUCCS) Conference held Oct. 7-10 in Orlando, Fla.
The general service campaign category includes publications that increase the visibility of computing projects and services in their home institutions. The entries include training offerings and catalogs, departmental support projects, consulting services and support centers.
Project participants included Carol Anderer, Ron Nichols, Dan Coleman, Richard Gordon, Debra Jeffers and Larry Larraga, all of IT-User Services, Larry Elveru, Office of Public Relations, Debra Wilder, IT-Help Center, and Jeff Whisler, formerly of IT-User Services.
The award-winning computer security campaign included a weekly video tip and UDaily article, as well as a calendar of cyber-security awareness activities listed on the IT-Help Center Web site.
"It was a total team effort, and I'm very pleased with the work that everyone put into this project," Nichols said. "I'm particularly proud that this award comes from our peers from other institutions and that it recognizes the quality of our work."
The judge for the category said that the UD effort was, "In a word: superb. The UD campaign videos met their stated objective--and they did this in a simple and to-the-point manner that moved along, was visually stimulating, held interest and communicated the desired information."
The panel of judges especially liked the opening graphic montage and the use of motion graphics in each piece, and said "the ending theme in each video of 'Protect Your Computer' was effective in reinforcing the overall theme, as well as presenting different subthemes in each video."
The panel also cited the collaboration with the UD Office of Public Relations in promoting the videos by using news stories to advertise each release.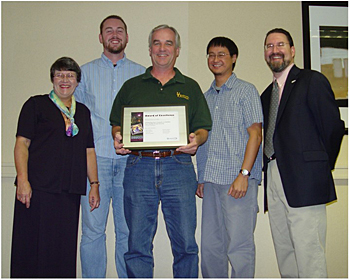 "All of the videos, which were filmed in Smith Hall, were between 65-90 seconds long," Gordon said. "Their purpose was to raise public awareness and to lead people to information to help them protect themselves, their information and their computers."
Another UD entry, "Connecting Your Computer to UDelNet: Your UDelNet ID and Security," received an Award of Excellence in the Electronic How-to Guides category, which includes Web documents that are primarily procedural and provide instructions for computing tasks.
Joining Coleman, Gordon, Jeffers, Larraga and Nichols in this effort were Ann Amsler, Lisa Elias and Suzanne Nanis, all of IT-User Services.
In commenting on this entry, the judge for the category said "Good branding--consistent University of Delaware and Consulting on Demand identification." The judge also noted that there was a consistent look and feel across all three "Consulting on Demand" videos, as well as excellent use of media.
"Last year, these episodes of connecting videos were by far the most downloaded and viewed of the 'Consulting on Demand' series," Larraga said. "We were pleased to have its success affirmed by our academic community peers."
SIGUCCS is an association of professionals who support and manage the diverse aspects of information technology services at higher education institutions. The primary goal of SIGUCCS is to provide a forum for the professional development of individual members through conferences, publications and other services.
Article by Jerry Rhodes
Photos courtesy of ACM-SIGUCCS