2007 Presidential Citation winners announced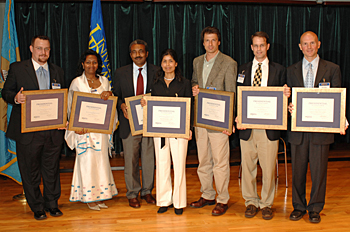 4:37 p.m., Oct. 15, 2007--Seven UD alumni took the spotlight Friday afternoon, Oct. 12, as UD President Patrick Harker and Monica Taylor, vice president of development and alumni relations, honored them with this year's Presidential Citation for Outstanding Achievement Awards.
Held in the Gore Recital Hall of the Louise and David Roselle Center for the Arts, the ceremony honored the seven recipients for their dedication to public service and professional contributions and drew colleagues, guests and family members from as far away as Ethiopia, Minnesota and Massachusetts.
"To today's honorees, congratulations on your achievements," Harker said in his welcoming remarks. "Know that we at the University are very proud of you and what you have accomplished.
"Although your individual experience and your accomplishments vary, you all share an important quality--you have remained engaged with this University. Such engagement is crucial."
Noting the growing academic presence of the University of Delaware, Harker voiced his confidence "that UD is on the brink of being recognized as one of the great universities" and said that "it is on the path to prominence."
Each recipient gave a short speech acknowledging the award and the University's role in shaping their careers, and accepted their certificates and a handshake from Harker.
The following are the winners of this year's Presidential Citation Awards for Outstanding Achievement.
Menbere Alemayehu, owner of Menby's Design, a studio based in Addis Ababa, Ethiopia, graduated from UD's apparel design program in 1990. She achieved her first goal--to become a successful self-employed businesswoman in her native country of Ethiopia. Her second, related goal is to improve the lives of other Ethiopian women by hiring and training more women as weavers and seamstresses while providing good pay and better working conditions. Alemayehu talked about her origins as a seamstress, when she worked alongside her mother sewing garments for family members. She credited the University for making it possible for her to pursue a successful career in her own country, and gave special thanks to her former professors at UD.
Robert Boudwin, the mascot and event specialist for the NBA's Houston Rockets, received his bachelor's degree in business and economics from UD in 1997. Boudwin helped launch the University of Delaware's YoUDee mascot from 1993-95 before becoming Houston's own Clutch the Rocket Bear. Named the fifth most recognizable mascot in sports by USA Today in 2005, Boudwin continues to create impromptu comedy at Houston Rockets basketball games, cheerleading, signing autographs, performing skits and cavorting with power dancers to the beat of his own drum. Boudwin talked about the origins of UD's mascot program, acknowledged how it gave him skills he still calls upon daily, and credited the program with sending him down a career path he wouldn't have otherwise chosen.
Sean Dalton, who received his bachelor's degree in electrical engineering from UD in 1992, a master's degree in the same subject from the University of Pennsylvania in 1993 and an MBA from Harvard in 1998, is a managing general partner of Highland Capital Partners in Boston, a venture capital firm with $3 billion of committed capital that backs entrepreneurs within the technology, life sciences and consumer markets. Dalton currently focuses on opportunities in network infrastructure and semiconductors. Dalton talked about his early days at UD, acknowledged the supportive environment for building his confidence and gave special thanks to the electrical engineering program at UD.
Sunita Gangopadhyay, an executive director at Seagate Technology, earned her doctorate in physics at UD in 1993 with a specialization in magnetism and magnetic materials. Gangopadhyay leads teams of up to 50 professional engineers at Seagate Technology, the world's largest manufacturer of hard disk drives, magnetic disks and read-write heads, an innovator in tape drives, and a leading developer of business intelligence software. Gangopadhyay thanked all her former professors in UD's Department of Physics and said that her research opportunities while a student instilled her with lasting confidence and passion for her work.
George E. Heimpel, an associate professor in the department of entomology at the University of Minnesota, received his master's degree in entomology and applied ecology from UD in 1991. He has traveled to far-flung places to find biological control solutions that are more effective in discouraging insect pests and less toxic than some chemical solutions. Heimpel emphasized his appreciation of the opportunities with which UD provided him during his pursuit of his master's degree, thanked a former professor, Judith Hough-Goldstein, and credited UD with giving him world-class training.
Aklilu Kidanu, director of the private and independent Miz-Hasab Research Center in Addis Ababa, Ethiopia, received his doctorate from UD's College of Human Services, Education and Public Policy (CHEP) in 1990. Kidanu researches the impact of population, poverty and health issues on the social and economic development of African societies and suggests ways of using this knowledge to improve people's lives. Kidanu talked about how his opportunities at UD allowed him to return to his native country and in turn provide job opportunities to more than 450 Ethiopians.
Mark B. Shiflett, a researcher at the DuPont Experimental Station in Wilmington, Del., received his master's degree in chemical engineering and a doctorate from UD in 1998 and 2002, respectively. Shiflett and his research team at DuPont developed new refrigerant mixtures to replace the CFCs (chlorofluorocarbons) and HCFCs (hydrochlorofluorocarbons) that were linked to the depletion of the Earth's ozone layer. The new refrigerant mixtures are non-ozone depleting, as well as nonflammable, with low toxicity and good thermal stability. Shiflett talked about the challenges of working full-time while pursuing his masters and doctoral degrees at UD, and gave special thanks to the Engineering Outreach Program at UD.
Taylor concluded the ceremony with final congratulatory remarks to the recipients, and invited all present to the reception.
Article by Becca Hutchinson
Photo by Kathy F. Atkinson