Antarctic View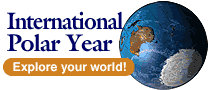 11:15 a.m., Nov. 30, 2007--
Editor's note:
Over the next few weeks, with support from the National Science Foundation, a team of University of Delaware researchers will be at work in one of the iciest, coldest, most austere places on the planet: South Pole, Antarctica. Currently stationed at the South Pole are UD researchers Thomas Gaisser, Stoyan Stoyanov, and James Roth of UD's Bartol Research Institute, who are working on the IceCube neutrino telescope.
Their Antarctic blogs will appear on UDaily and on the Wilmington News Journal's Delaware Online Web site through a partnership between UD and the newspaper.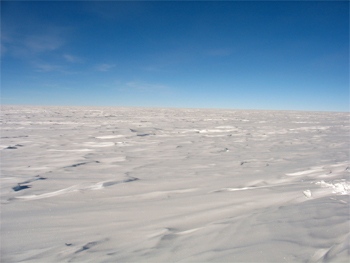 Today, I was working on the edge of our IceTop array and took the opportunity to walk out a few steps beyond. The picture shows the vast Antarctic plateau, more or less in the direction of Newark, Del., which is about 9,000 miles away. The altitude here is about 10,000 feet, and there is very little precipitation. We are high and dry. The wind sculpts the characteristic pointed structures in the snow known as sastrugi, as shown in the close-up.
The scale of this detail from lower left of the photo at right is about 10 inches. There can be much bigger features, depending on recent wind speeds. We have had a run of good, sunny weather with low wind the past few weeks.
--Tom Gaisser, UD Research Team Leader